This is the weekend edition of TheMarioBlog and will be updated as needed. The next blog post is Monday, March 4
TAKEAWAY: The real 24/7 newsroom is upon us, and with the media quartet expanding globally in publications large and small, the new genre is for the type of storytelling that becomes a companion, right in the palm of your hand. ALSO: Yale Publishing Course available for summer 2013
Second screen is perfect storytelling companion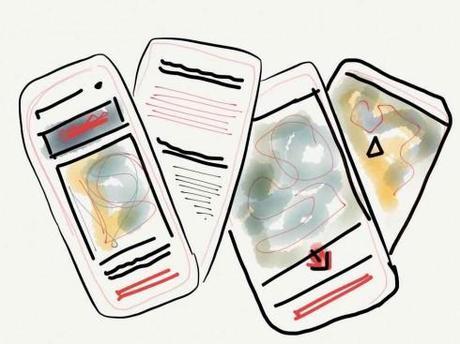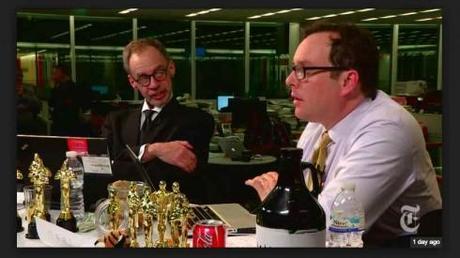 A.O. Scott and David Carr, of The New York Times, providing background information and their own little moments as the backdrop of a big moment: The Oscars. (Photo: http://www.niemanlab.org/2013/02/second-screen-first-oscar-night-lets-the-new-york-times-explore-being-a-live-event-companion/#sthash.KRwwQPOS.dpuf)
One thing I always tell my non-media friends is that perhaps the most fun work environment in the world has to be a newsroom.
The conversations can be personal, of course: people fall in love, have children, fall out of love, get a new pet, just as everyone else.  This is part of the routine conversations while pouring coffee, too.  But the best is the banter between journalists about stories in which they may be working, or stories other journalists have published (sometimes not very kind remarks, but often fun), or just plain unpublishable (why not?) comments about everything from culture to politics and sports and every possible subject in between.
From the first time I entered a newsroom as an intern at the age of 19 and got hooked with this marvelously fun craft of ours, I have wondered, sometimes out loud, about the people who populate our work environment. It is a marvelous combination when someone who is witty, smart and articulate can also turned totally irreverent about almost any topic.
I remember distinctively, as an intern at The Miami News of the late 60s, listening to comments made by those who would collect strings of wire copy and photographs from those forever clicking UPI and AP wire machines.  The best captions, mini stories and headlines probably were aired there, but also disappeared there, never to land on a column or a real photo caption. Definitely, the readers' loss.
If newsroom walls could write
Oh, the wisdom that the walls of a newsroom have been witness to!  Recently, when someone told me that NBC was planning a reality show inside a regional newspaper newsroom, my first thought was: will it be censored? How real will it be?
Today's newsrooms are exactly like those I knew in the 60s, and, by the way, it's the same anywhere in the world. A collection of interesting people spontaneously creating little moments that could—-but are seldom—-published
Little moments that are particularly perfect for mobile devices. Why not?
I think that when we start doing more curated mobile phone editions, of which I am a major proponent, they will capture the little moments.
Not just about little moments
But, they are not limited to the little moments.  Big moments, major events lend themselves to the kind of spontaneous storytelling that could never play well on the printed page, but that audiences crave on mobile devices.
For example, this past week, during the Oscars, The New York Times became a companion (I like that word a lot, and I hope to think more about it: storytelling companion) as two of the New York Times writers A.O. Scott and David Carr teamed up to provide live play-by-play and running commentary of Oscar night, on the paper's website and across its other digital platforms.
This, I believe, is the start of a new type of storytelling that emphasizes the spontaneous, the little moments, the unpolished, a sort of journalistic foreplay that anticipates the big climax.
I plan to be writing more about this in the future as we at Garcia Media are engaged with the creation of mobile phone editions that do just this.
See more at:
USA: Second screen first: Oscar night lets The New York Times explore being a live-event companion
http://www.niemanlab.org/2013/02/second-screen-first-oscar-night-lets-the-new-york-times-explore-being-a-live-event-companion/#sthash.KRwwQPOS.dpuf
Highlight:
It….represents the next step for the Times as it expands its coverage of live events and tries new approaches to second-screen viewing. On NYTimes.com, the video was only one component of a lively Oscars page that included live discussion with Times reporters and critics, photography, social media, and an interactive Oscar ballot
Of related interest:
USA

: New York Times Names Senior Editor and Director of Video
http://www.editorandpublisher.com/PeopleInTheNews/Article/New-York-Times-Names-Senior-Editor-and-Director-of-Video
2 Yale Publishing Courses this summer
Here are two courses for those interested in studying about magazine and digital publishing, as well as book publishing at Yale University.
The programs are as follows:
Leadership Strategies in Magazine & Digital Publishing
July 14 - 19
Leadership Strategies in Book Publishing
July 21 - 26
A note from the YPC promotional material:
Step away from your daily routine and get a broader perspective on an ever-changing publishing landscape at YPC. We urge you to apply early, enrollment is limited to 70 participants per program to provide more one-on-one attention. Apply now to reserve your spot.
For more information:
http://publishing-course.yale.edu/?utm_source=Announcing+scholarships&utm_campaign=Announcing+two+scholarships&utm_medium=email
Where's Mario until March 2, 2013?

Mario's upcoming speaking engagements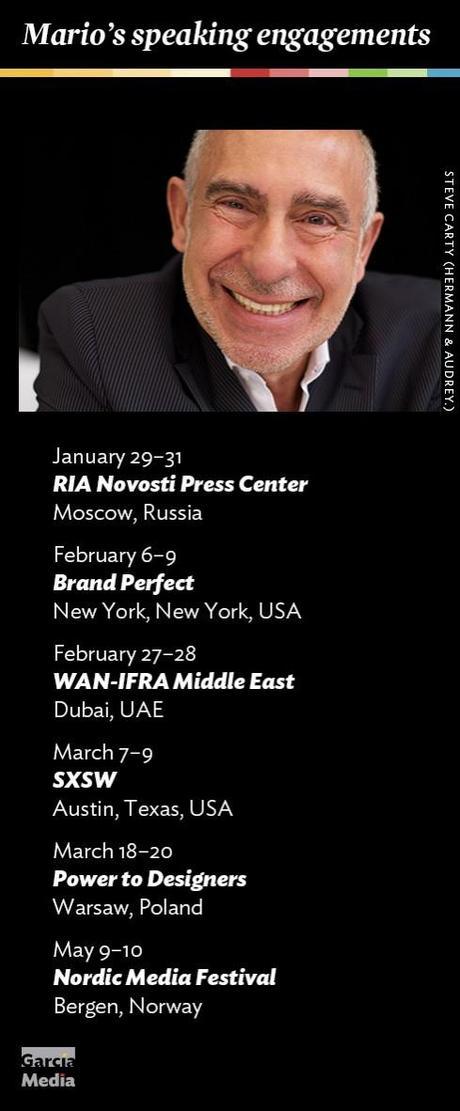 Take advantage of our iPad Design/Ad Lab workshops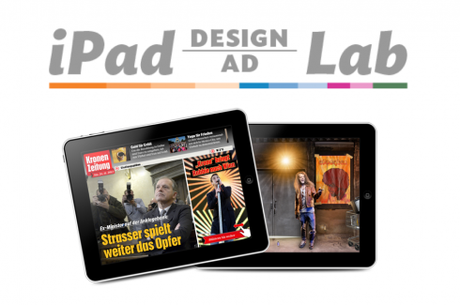 Do you want to take your brand to the next level by creating a tablet edition? Garcia Media can help. We now offer one- to two-day iPad Design Lab workshops on demand to jumpstart your presence on this exciting new platform. We also offer iPad Ad Lab workshops to develop engaging advertising models for your app. Contact us for more information.

Purchase the book on the iBookstore
iPad Design Lab has been given the
QED

 Seal
TheMarioBlog post #1205