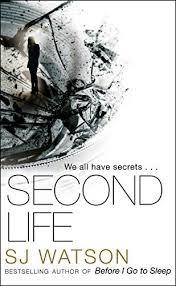 I sometimes think I'm the only person in the world who didn't read SJ Watson's ridiculously successful debut novel, Before I Go to Sleep. I did see the film and thought it was pretty silly, I'm afraid, but maybe the book was better. Anyway, I was offered the chance to review an audiobook of this, his second novel, and curiosity drove me to say yes. Do I regret it? No -- it was an interesting experience, but you could hardly call it an enjoyable one. If you are someone who loves so-called cosy crime, or police procedurals, or clever detectives solving apparently insoluble things, this is not the book for you. It's a powerful psychological thriller and not recommended for those of a sensitive disposition. As I'd put myself in that category, it was hard going for me, but I did really really want to know how things were going to pan out, so I persevered, though it gave me a sleepless night or two.
 Here we have Julia, a photographer in her thirties, married to surgeon Hugh and bringing up thirteen year old Connor, who is actually the son of her younger sister Kate. Kate, who gave the child up when he was tiny, has recently been asking for him back. But almost as soon as the novel begins, Kate is found brutally murdered in a back street in Paris, where she has been living. The police are baffled, and Julia, devastated, heads for Paris hoping she can find out who did it. There she meets Julia's flatmate Anna, who tells her that Kate has been meeting men online for sex, and suggests Julia tries to follow up some of her contacts: perhaps one of them will prove to have been Kate's killer. And so she does, and soon finds herself deeply immersed in a real life affair with Lukas, who may or may not have known Kate. Things get progressively Fifty Shades-ish, extremely scarily and unpleasantly so. But Julia is obsessed, both with the sex and with the danger, which is the only thing that seems to mask her grief over the loss of Kate.
Most of us would, I assume, have pulled out of this extremely horrid business pretty quickly. But Julia is a recovering alcoholic and heroin addict, and presumably we are meant to see this as another manifestation of her addictive personality. So she continues with her secret meetings with Lukas, but is in a more or less permanent state of mental agony, which is frequently described in graphic terms: 
My head begins to spin …. Then a moment later everything begins to recede as if disappearing down a tunnel.
 She also has secrets of her own, which are slowly revealed as the story progresses, and which ultimately prove to be related to the reason for Kate's murder, though this is only revealed right at the end. Meanwhile there are twists and turns galore, and I certainly didn't guess the final outcome.
So, as I said, I didn't exactly enjoy this, but it certainly kept me rivetted. One thing I did find a bit troubling, rightly or wrongly, was the fact that all this female psychologising was written by a man. It's not that uncommon any more for a male writer to assume a female narrative voice, and usually it doesn't bother me, but here it did a bit -- it seemed slightly odd and creepy. 
Anyway, the Audible recording I listened to was very well read by Imogen Church, and of course the novel is also available on Amazon and Kindle, so you can pick your preferred medium.  Or you could wait for the movie, which doubtless will be on our screens before too long.