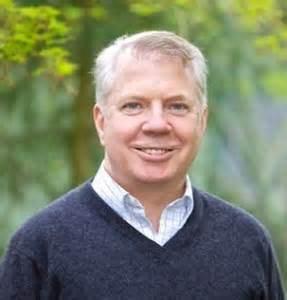 Seattle mayor Ed Murray
Seattle Times: In a decade, Seattle's minimum wage workers would be making double what they are today, under a plan announced this morning by Mayor Ed Murray.
Murray's plan calls for the city's minimum wage to climb to $15 an hour, phased in over three to seven years depending on the size of business and whether workers receive tips or benefits in addition to salary. After that, the wage would be tied to the Consumer Price Index, with estimates showing it rising above $18 an hour by 2025. Current minimum wage is $9.32 per hour.
The deal was finalized Wednesday night, after Murray returned from a study mission with the Seattle Metropolitan Chamber of Commerce to New York City.
"Once again Seattle has chosen to collaborate and Seattle workers are going to get a raise," Murray said at a morning news conference.
Murray said 21 of the 24 members on the committee he assembled to create the proposal have agreed, indicating broad support. He thanked his committee members for taking risks and showing courage. "I believe they are going to move this city forward," he said.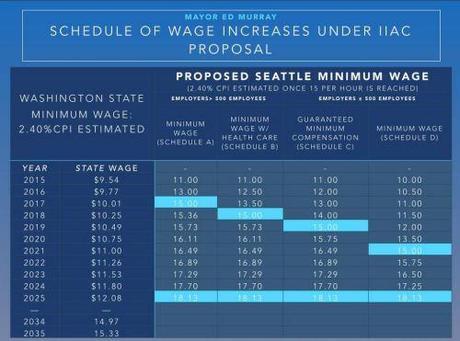 Can this get any more complicated?
The agreement defines small business as 500 employees or fewer. Large businesses with more than 500 workers will have to pay workers $15 by 2017 if they don't also receive health care or tips. In that case, they get an extra year.
Fewer than 1 percent of businesses in the city have more than 500 workers, but those businesses employ about 30,000 workers, or about a third of those now making less than $15 an hour, according to a study for the city by the Evans School at the University of Washington.
Small businesses will have until 2019 to reach $15 an hour if they do not offer health care or tips. All other small businesses will have to pay $15 an hour by 2021. There are no exemptions for certain industries, organizations or class of employees.
The long phase-in for some businesses and the definition of small business has already been denounced by 15 Now activists who promote their initiative effort as a "real $15." Activists on Saturday voted to go forward with signature-gathering to place a measure on the November ballot.
Murray, though, said he expected the deal would avoid competing minimum-wage initiatives on the November ballot. He said he doesn't expect business group OneSeattle to move forward with an initiative.
David Rolf, co-chair of the mayor's committee and president of SEIU 775, said the deal involved a lot of compromise on both sides, and he thanked the business leaders for their creativity in helping make it happen. He said the fast-food workers who went on strike last year were the real leaders who got the minimum-wage conversation started.
The agreement will now move to the City Council, which will be tasked with creating an ordinance.
"Now we have to act," said Councilmember Nick Licata, also a member of the mayor's committee. "I will work with my colleagues to pass this proposal with the minimum amount of tinkering possible. The council and all of us, I believe, have to embrace this spirit of cooperation. We cannot tear it apart."
The socialist city council member Kshama Sawant is not happy, of course. She's been pushing hard for this raise now. She said the proposal is a watered-down plan that doesn't reflect what Seattle workers want.
And the proggies in Seattle who elected their mayor aren't happy either. Let's take a look, shall we?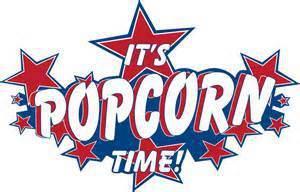 This is a laughable approach that will be completely erased by inflation by the time it gets to $15 for everybody.
We need REAL solutions, not Political B.S.
Doubling the minimum wage in ten years?  Since you didn't put it to a vote I will gladly vote for your repeal.
A short term and short sighted fix for an enduring and chronic condition. 
This is throwing us crumbs.
As a gay male, I would be ashamed to associate myself with Murray. He sure fought like a bull to get gay marriage in this state. When it comes to helping the working poor —- he offers bone soup and a slice of dry bread.
I find the proposal rather insulting. It boggles my mind that the slaves are being forced to fight for each and every slice of bread.
Wow – This is pathetic  How ridiculous. First waste this time with a committee, bring hiring to a halt among minimum wage workers then come out and tell people, hey we'll take care of you in SEVEN YEARS.
And where in this plan is there anything that is going to do ANYTHING to reduce income inequality. What a flipping joke this guy is.
Is it just me or did Murray just snow the 15 now people into thinking he gave them what they wanted?  What a skilled politician!
RECALL ED MURRAY! 
Elections have consequences Seattle.
DCG