One of the fun parts of planning our annual trip to Seattle is that my uncle always knows the newest places in the Seattle food scene.  Last year he took me to Salumi, this year we all went down on a remarkably sunny Seattle Saturday to Marination ma kai–originally a food truck, now a bricks and mortar restaurant.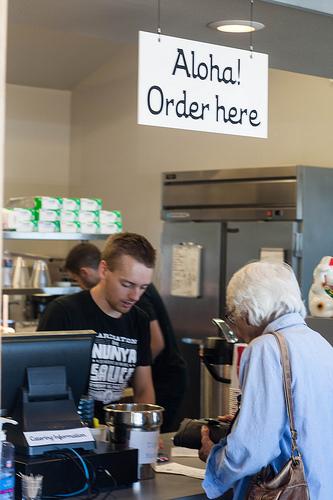 Marination ma kai has an enviable location on Seattle's Alki beach in West Seattle–"ma kai" means "by the sea."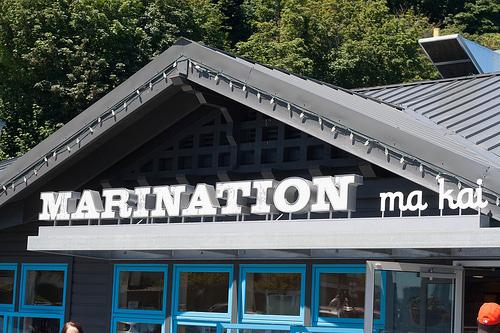 And you couldn't pick a more appropriate spot for a Hawaiian-inspired restaurant to be located.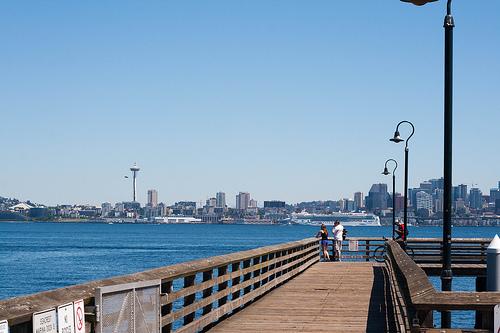 Hawaiian is only part of it though:  This is actually a Hawaiian-Korean place, as the generous application of kimchi will make immediately apparent.  But there's plenty of surprising items on the menu as well:  an unapologetic use of SPAM, so-called "sexy tofu," sliders and tacos, and Marination's signature secret recipe Nunya sauce (what Food and Wine calls "the next Sriracha").  If you aren't going to be in Seattle, you can still get a taste of Marination by having Nunya shipped to you.
Between all of us, we sampled a good portion of the menu–I had kimchi rice bowl with a fried egg, Karen got the sexy tofu, and there were orders of pork sliders, fried fish, and lots of crispy fries with Nunya sauce.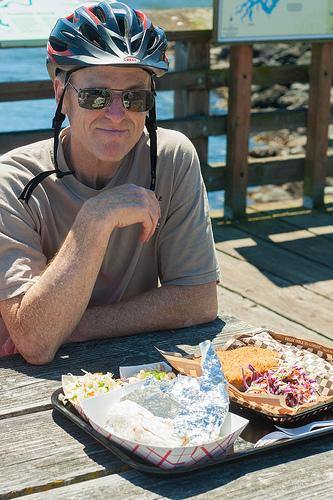 While parking is not always easy at Alki, there's no better place to enjoy the meal.  We claimed some picnic tables near the restaurant (funnily enough, next to the showering-off station for scuba divers, whose bulky amphibious get-ups were quite entertaining for my sons) and looked across Elliott Bay to downtown Seattle.  There's plenty of indoor seating for those more than common overcast days as well.
But on a sunny day, no nicer way to finish off a meal than by dipping your toes in Puget Sound.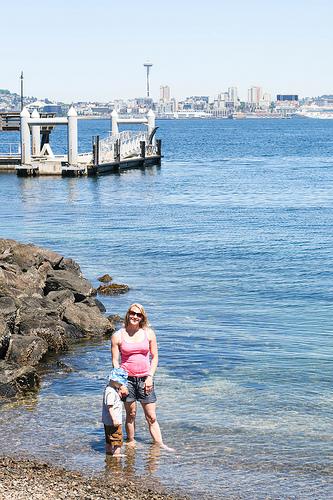 (Aunt Karen and Little H, with the Space Needle in the background).
Marination ma kai
Alki Beach – Seacrest Park – West Seattle Water Taxi Loading Dock
1660 Harbor Ave SW, West Seattle
http://marinationmobile.com/locations

Updated to add:  I haven't tried this recipe, but it's what Flourishing Foodie reports to be a successful go at recreating the Korean Tofu Tacos at home.  I'll be giving it a try myself!