People who know me really well know that I am a history buff. I was probably the only one in my classes who always signed up for the additional reading required.
And I've always been up for anything Tudor-based - books, movies, TV serials, you name it.
So, the Christmas holidays were the perfect time for me to start on The Tudors (available on Netflix).
I was first intrigued by this series when I heard about the casting. Somehow, I would never have pictured pouting pretty boy Jonathan Rhys Meyers as the obese, delusional King Henry VIII.
In fact, this knowledge put me off watching The Tudors for the longest time. Until I heard that Natalie Dormer (Princess Margaery from the Game of Thrones) serial was to play the role of Anne Boleyn.
That was the point I decided this was a serial that needs to be watched. I simply loved Natalie Dormer's performance in Game of Thrones. She gave the role of Princess Margaery a complexity that wasn't there in the books.
Anyway, I ended up binge-watching the first two seasons of The Tudors (ending at Anne Boleyn's execution), and here's what I thought of it.
JRM is horribly miscast
As I suspected, Jonathan Rhys Meyers really doesn't look or act the part. I don't know really how to express it, but the closest I can come to is that the royalty factor is missing. I actually thought that some of the supporting cast (for example, the actor that played Buckingham's part) looked more like the king than the king himself.
I guess it also doesn't help JRM's cause when the supporting cast is really top-class. Sam Neill as Cardinal Wolsey stole every scene he was in. And Natalie Dormer as Anne Boleyn did a fantastic job too.
Ridiculously inaccurate
There is a story line involving the King's sister, and her romance with his best friend Suffolk. I was quite taken aback at how terribly wrong it was. They changed her name, changed the nationality of the King she marries, and worse make it seem like she murdered her own husband.
Henry VIII's sisters are quite important historically, as they were mothers to a future King and Queen of England. And it was quite shocking to see how such important characters whose lives are fairly well-known got slandered so badly.
The timing of various events is also played with. Kings and popes die at historically wrong times. Wolsey's death (by suicide) is the grossest misrepresentation, especially considering that he was a Cardinal, and that the Church had a very poor opinion at that time of suicide.
Basically, what I am saying is, watch this series for the entertainment, but don't try to understand the history of those times by watching it.
Sets and costumes
Now, this is one of the main reasons to watch this series. It's filled with the most good looking people in some wonderful costumes.
Case in point is Anne Boleyn. Her costumes are simply sumptuous. She is visual eye candy whether she is simply dressed, or in elaborate clothes once she's Queen. I also love how well her wardrobe reflects her moods, personality, and her position in life.
Here are a few images that highlight Anne Boleyn's beauty (excuse the quality - most of them are screenshots taken from my iPad).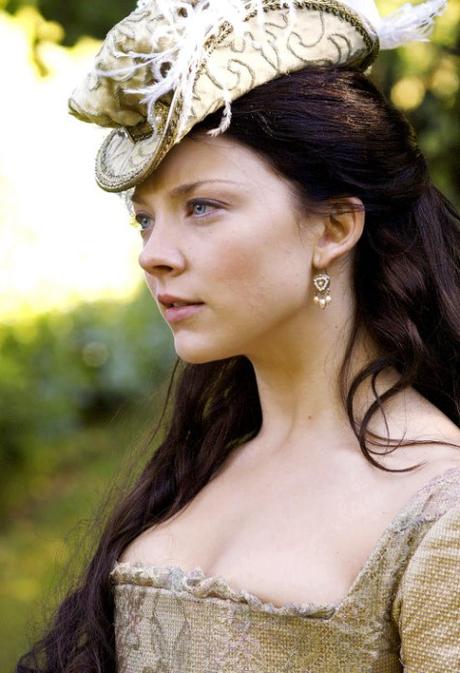 Btw, if you want to see more of Natalie Dormer's looks and costumes, check out Pinterest - there are some lovely boards out there dedicated to her Anne Boleyn looks.
The sets are not as lavish as the costumes. I was a bit surprised as to how simple the King's court and the dance halls looked so small and homely. Even the throne does not look anything special. The outdoorsy scenes though are completely gorgeous.
The Pacing
Henry VIII's story is a pretty exciting one populated with very charismatic people. Still I found issues with the pacing. The whole divorce saga (from Katherine of Aragon) seemed to drag for ages. And inane sex scenes and love stories and focus on some inexplicably boring people (I mean Thomas Tallis? why was he given so much screen time? and those bimbos he romances, ugh!)
And yes, the sex scenes. There are too many of them, they are ridiculously torrid, and in my opinion, negate virtually any pretensions the serial may have towards being a serious historical drama.
Last Thoughts
Overall, this was a generally mixed series for me. In general, I liked the series overall primarily because of the sets, costumes, and some exemplary acting by the supporting actors.
I do have to say though that now with the death of Anne Boleyn (who was the most charismatic of Henry VIII's wives), I don't feel particularly compelled to continue with the series.
Have you seen this series? Would you recommend I continue? What are you watching on Netflix these days?