Some Season 7 news from TV Line today.
It looks like Jason Stackhouse may not have seen the last of his psychopathic ex!
Any news on the new villains/Big Bad of True Blood Season 7? —Tom
Who needs a new Big Bad when you've still got Anna Camp's Sarah Newlin hanging around wreaking havoc at every turn? And in the show's seventh and final season, we'll be introduced to the vampire exterminator's Texas socialite parents and angry, bitter, gothed-out sister. (Fun fact: Sarah's spot-on maiden name? Crabtree!) While mom and dad will appear in just one episode, Sarah's sis, Amber, will be staying put for an arc — an extremely juicy, twisty, this-will-explain-a-lot-about-why-Sarah-is-the-way-she-is arc.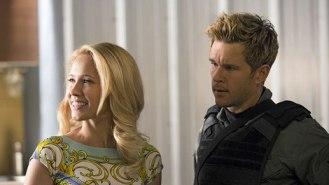 And also some news on a possible new love interest for the widowed Arlene.
After dying in 90210, Riley Smith will soon find himself among the undead in True Blood's final season.

Smith will play a brooding vampire named Keith in the HBO drama, our sister site Deadline reports, and will immediately become infatuated with none other than Arlene Fowler-Bellefleur.

In addition to romancing Bon Temps' newest bar owner, Keith will also be the drummer in fellow vampire James' band. (Former Bunheads bartender Nathan Parsons recently took over the role of James, following Luke Grimes' exit.)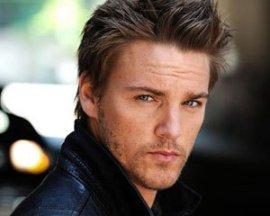 Personally I'm fine with Sarah Newlin returning as she is one of my favorite villains from the show, and certainly one of the strongest performers last season. Arlene and a vampire? Eh no!  Hopefully that will just remain a one sided infatuation.