This week's contribution is a piece that I wrote in August 1968. Good heavens! All those years ago and where has the time gone ? Here I am in my dotage still writing! As with most teenagers I had many romantic ideas.....love, betrayal, loneliness etc; the list goes on...Thank goodness for age! It has brought me serenity, contentment... Along with loss and bereavement...so maybe the love and loneliness parts are still active? Anyway I digress...here it is exactly how it was written 47 years ago....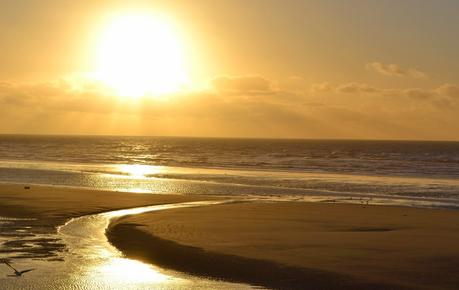 Silver sand, Sifting sand
The waves danced in the last rays of the setting sun,
Accompanied by the plaintive cries of the seabirds.
A slow mist  curled, drifting above the horizon
Separating the blue sea from the darkening sky
And adding a faint chill to the evening breeze.
My feet broke the wet sand along the border of the ocean..
Lonely footprints on the desolate shore.
I heard the breakers crashing on the ancient pillars of rock
And heard the echoes of the age.
Reaching down I sifted the silver sand between my fingers
Feeling the caress of time and even before.
   My lips parted...
"Silver sand, sifting sand.
 Sand of age in my hand.
 Silver sand here I stand
 In a lonely land"
I looked up and saw that the sun had gone.
Thanks for reading. Kath Curtiss.
Email This
BlogThis!
Share to Twitter
Share to Facebook
Reactions: