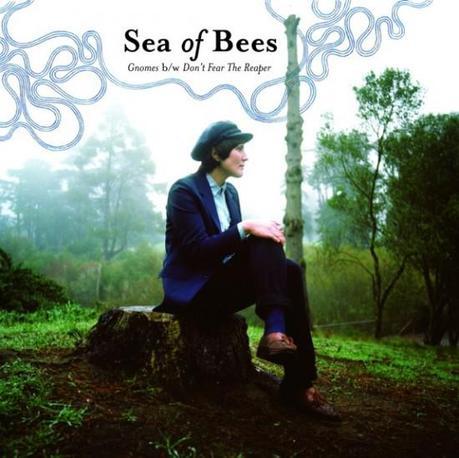 Julie Ann Bee's voice is arresting. It's not the kind that allows one to sit idly by as it waifs in the background. It demands attention. It's the kind that can turn a ubiquitous song like U2's "With Or Without You" into a song that feels unfamiliar– something that takes on a whole new meaning.
This is exactly what Julie, more commonly known as Jules, does on Sea of Bees' (@seaofbees) Gnomes EP. Although the EP only features one original song, along with a remix and two covers, each track offers a completely different perspective and is very much unique to her style.
The song "Gnomes" serves as the base of the EP and offers up some old school rock-circa-1976 sounds. The imagery it conjures at once seems very specific, but also vaguely aloof. After many listens I'm still not sure I could tell you what the song is about, but I think that's the beauty of her music – it's up for interpretation, it's not for the passive listener.
"Gnomes" is followed by a remix from the UK experimental folk band Tunng. Like any good remix it's not overdone. She punctuates the song with an Eastern influenced beat, adding layers of intricate bleeps and blips that sounds like some sort of cross between Gogol Bordello and The Postal Service.
Of the two cover songs featured on the EP, "Don't Fear The Reaper" by Blue Oyster Cult and "With Or Without You", I think Jules' simple guitar-and-voice cover of U2 is one of my favorite recordings from Sea of Bees. It's stunningly beautiful. This song works because, amongst other reasons, she sings it with such honesty. I just don't trust Bono, maybe it's the sunglasses I don't know, but what he lacks in authenticity Jules makes up for ten-fold in pure emotion and talent.