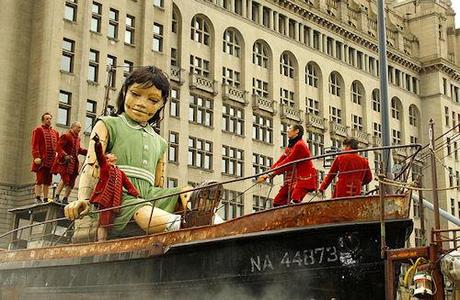 image credit
Last Friday saw a weekend long Sea Odyssey street theater event in Liverpool in the north of England. The occasion was inspired by a letter written by a little girl to her father. He was a steward above the ill fated RMS Titanic which was registered in Liverpool. The steward, William McMurray was not one of the lucky passengers and crew who survived the sinking of the ship.
The letter arrived after the Titanic had left on its first and final voyage and was eventually returned to his daughter.
Sea Odyssey
re-invents this sad tale with the girl (known as Little Girl Giant) traversing the streets of Liverpool on an undertaking.
(thanks Robert-John)
The Presurfer