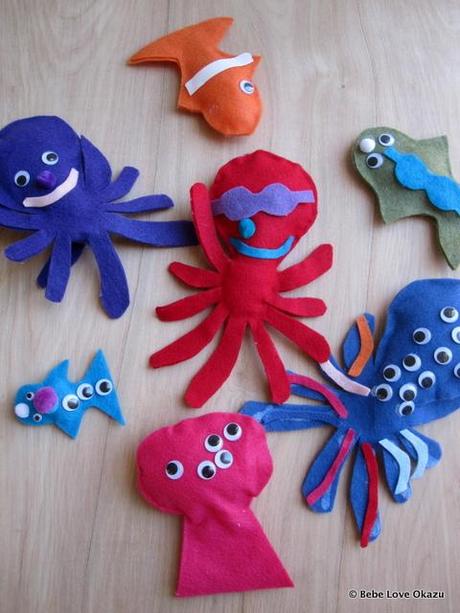 Given that I haven't been cooking anything new to post lately, I thought I would start sharing some of the crafts that we do at home. One of Bebe's favorite indoor activities to do at home is, you guessed it, crafts. Playing make-believe probably comes second, followed by homemade activity boxes which I will explain further in another post.
Last month, we had her cousins over for a swim, but I planned a non-water craft that I left out on the table, just in case one of the kids needed a break from the pool.
Keeping with the theme of water and Bebe's favorite Little Mermaid | Princess Ariel, I put together these little felt sea-life creatures for Bebe and her cousins to decorate.
As you can tell from the above photo, the octopus was her favorite, but she did have a special place for the pink-mushroom-looking thing, a.k.a sea anemone. And YES, making scary octopus with multiple eyes, or sticking extra google eyes on anything is always a favorite.
For me, one of the easiest and most inexpensive things to work with is felt and a glue gun. I have a soft-spot for felt as my friend M and I often made uber-amazing Halloween costumes in another lifetime pre-kids/pre-marriage/care-free young adult-hood.
Supplies:
felt

hot glue gun
glue sticks
googly eyes
pom poms
scissors
cotton batting
white medical tape, optional
Not Rocket Science, Here's What I Did:
I started out by hand-drawing sea-animal outlines in regular paper. I cut those out, and then used them as templates for cutting out felt.
Rather than tracing the patterns on the felt using a pen (an added step I didn't think was necessary), I simply pinned the paper template onto two pieces of felt (two pieces needed for the front and back of the sea animal friend) using little sewing pins, then I cut around the template. Easy.


Next, using a hot glue gun, run the glue along the edge around half of the "friend", leaving enough space open so that you can stuff if it with a little cotton batting. Bebe likes how her sea animal friends aren't flat and instead have a little "girth" to them.
After you've stuffed the sea animal friend to your liking, run glue along the remaining open edges of the "friend" and seal it up.
Provide accessories: googly eyes and cutouts made from felt scraps: mouth, nose, goggles, stripes, whatever you want. I threw in a few of her favorite puffy balls (a.k.a. pom poms) which Bebe happily used as the "nose" for her sea animal friends.
I really like to keep all of our craft supplies organized, in a very Type-A, AR (anal retentive) way. Needless to say, almost every craft supply has it's own plastic container (no keeping things messily in the plastic bag it came with), labeled, and stored in multi-drawer craft bins (also labeled). I know, it sounds bad, but believe me, when we're looking for apple-shaped foam stickers, my AR organization comes in handy.
For each type of craft or what many refer to as quiet/busy activity, I have a box, ziplock bag, or zippered pouch to contain each one. It sounds intense, but I highly doubt I'm the only Mom who is like this… or am I?
So, for our sea animal friends craft, I contained them all in an empty plastic bin that I happened to have saved over at my storage facility (a.k.a my parent's house, which I should mention drives my Dad crazy since all my stuff is in "his" garage space).
Of course, I keep a supply of googly eyes and pom poms in their own recycled plastic container inside this activity bin, which are labeled, so that Bebe can easily access these to make a sea friend. Also included are all of the felt accessories (goggles, mouth, etc.) in  little ziplock storage bags.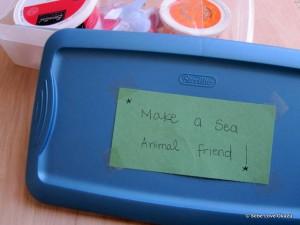 Tip 1:
I always make, or cut-out extra pieces so that there are plenty of sea animal friends (or any other craft) for Bebe to do more than once. The first time, she is always very excited about making something new, but usually, after a week or even a few weeks have passed, she always comes back to the same craft, wanting to do more. Which is what happened with these sea animal friends.
Tip 2:
Hold on to those paper cutout patterns. Never know when you run out of a sea-horse friend or a friend comes over and wants to make a sea horse etc. No sense in re-inventing the wheel. I usually just fold up the paper patterns and keep them in a plastic ziplock sandwich bag and store them with that craft's supplies.
Tip 3:
If your preschooler doesn't go to school every day, which will be the case for Bebe, it's nice to have hands-on quiet activities to do at home that are also educational. While we make sea animal friends, sometimes we will Google sea anemone, for example, and learn about what it eats, how it just sits there on a rock or the ocean floor etc. Almost anything can be turned into a learning lesson, and Bebe's like a little sponge and seems to love learning new things.
So there you have it. Felt sea animal friends, and a glimpse at some of the stuff we do at home when Daddy's at work and Nene's at big-girl school.