It's been very trendy lately to sculpt your face with a very heavy highlighting and contouring, allover the face. We've all seen the method where you apply a light shade on the T zone, as well as under the eyes and on the sides of the nose, and then a darker shade on the sides of the forehead, the nose and under the cheekbones. It's really cool and it works! But I know a lot of people are feeling intimidated by this method and are afraid of trying it, or just are not used to wearing a lot of makeup day to day, but still want to add dimension to the face and kind of "sculpt" the face, without feeling like you are wearing a mask.
So today I am going to show you an easier, more subtle version you can use to sculpt and shape your face features! :)
Scroll down to the bottom of this post to watch a step by step tutorial!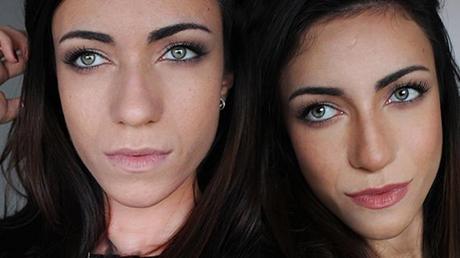 Products Used:
Chanel Bronze Universal
Sigma F80 Flat Kabuki brush
Garnier Skin Renew anti-dark-circle roller
Nars Laguna bronzer
Sigma E50 Large Fluff brush
MAC Miniralize SkinFinish Natural
Sigma F20 Large Powder brush
Benefit Watt's Up! highlighter
Hourglass Ambient Lighting powder in Dim Light
Sigma F35 Tapered Highlighter brush
Tarte Amazonian Clay blush in Dollface
Sigma F15 Duo Fibre Powder/Blush brush
CLICK HERE TO WATCH THE VIDEO TUTORIAL ON YOUTUBE