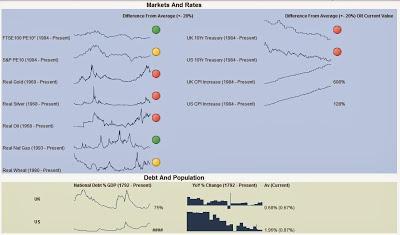 The Stock Screener and Market analysis spreadsheet has been updated and a few more analysis graphs have been added.
PE10 and Real Commodity Prices have been updated
Historical Debt to GDP and population growth analysis has been added for the US and the UK
All sources of information are included in the spreadsheet 
Future improvements will be made to give a bigger picture of asset class valuations e.g. supply and demand of a commodity which can then be looked at further. Further long term trend analysis is another interest
Click here to download
*
- its introduction post can be found here
Peace, prosperity and happiness
THE.CONTENDERWelcome New CONTENDER Readers!
Please take a look around.
Here you can find out about
THE.CONTENDER and the purpose of the blog is or perhaps browse the
all posts list
, have a
look at the pictures on the notice board
. Please feel free to play with the planning tools and checklists.
Keep in Touch:
  RSS Feed, follow
THE.CONTENDER
on
Twitter
or
Facebook or subscribe to posts by email:
* Like everything on this website the tools have been created for personal use / entertainment purposes. The information is as accurate as far as the author is aware (unfortunately he is human and is prone to mistakes from time to time - **** happens). THE.CoNTeNDeR is not a financial adviser just a guy who is on the cusp of financial independence for his little tribe through frugality and investing for THE.FuTuRe. 
Please read the disclaimer that comes with this website and always do your own due diligence and research. Seek professional advice as required.