I hope everyone had a wonderful Mother's Day weekend!  We spent a lovely day at the zoo and then I got some crafting done in the afternoon while the little one's slept!
The first craft I accomplished this month is the scrapbook paper tree I found on Pinterest; thanks to http://www.everydaymomideas.com/.  What a fun project this turned out to be!!  I'm happy I went out of order of my crafting goals and started with the one project that was going to be extra for the month!!


Materials Needed:


Scrapbook Paper
Scissors
Floral Wire
Side Cuts / Wire Cutters
Elmers Glue
Branches from good ole Mother Nature!
Vase


Overall Time:

  Approximately 3 hours from start to finish
I followed the tutorial on Everyday Mom Ideas and began by creating a template out of cardboard - making two different sizes. Using the leaf template, I traced the leaf onto various sheets of scrapbook paper and cut them out.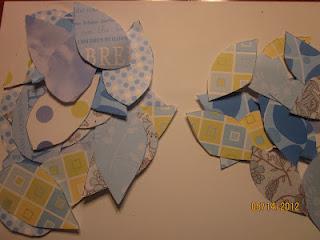 Once I had a good number of leaves, I glued them together with a piece of flora wire sandwiched in between.  This created a "vein" down the center of the leaf.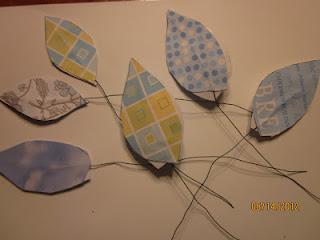 Let the fun part begin!!  I found it was easier to wire the branches together so they sat properly in the vase.  Overall there are around 50 scrapbook leaves on the branches and I love how it looks!
I'm already working on the second one and I will probably use more leaves to see which variation I prefer.  This project will be great for seasonal decorating - especially in the fall, I can see it already with gorgeous autumn colors.  :)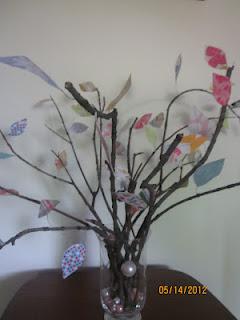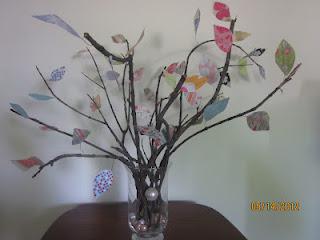 Happy Crafting!