0 Flares
0 Flares
×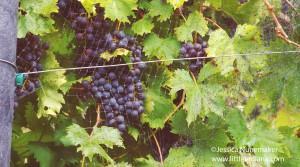 Scout Mountain Winery in Corydon, Indiana
Up the hill and down a gravel drive you'll discover Scout Mountain Winery in Corydon, Indiana.
Rustic and peaceful, this Indiana winery is a welcome respite from the busyness of the everyday!
Scout Mountain Winery in Corydon, Indiana
Southern Indiana always amazes me. Those hills and the trees and the hills! I guess I'm just not expecting all the lovely, lovely green of it all.
Well, Scout Mountain Winery is right smack dab in the middle of it. In fact, you could say it's pretty much surrounded by it. Situated on 35 acres and surrounded by forest, t's a soul satisfying kind of property.
As the Indiana wine goes, this Southern Indiana winery is welcoming and cozy. It takes that old snobbery about wine and sees it carefully out the door, thank you very much! Anyone can enjoy a glass (or a bottle) of good wine in good company.
Indiana Winery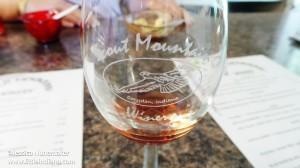 Scout Mountain Winery in Corydon, Indiana
The owners of Scout Mountain Winery, Mike and Margaret Schad, couldn't be nicer!
Mike has been making wine for twenty years. It just made sense to make it available to everyone! The winery turned four years old this year.
Margaret is a hoot! She's responsible for one of the more colorful wine names on the menu–and I didn't doubt that for a minute! This is the type of place that throws off those tired stereotypes about wine and proves that a great glass of Indiana wine is accessible to everyone.
Go There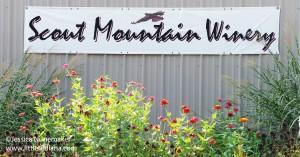 Scout Mountain Winery in Corydon, Indiana
We lingered at Scout Mountain Winery in Corydon, Indiana longer than we had planned. It was such a welcome, happy place we didn't want to leave! With events and live music throughout the year, well, it's just a very comfortable place to relax.
If you want a winery with sophisticated (i.e. snobby) airs, fancy dress, and an hors' doeuvres  menu, move along. But if you desire a modest yet satisfying snack list (amazing local goat cheese and seasonal breads), fabulous wines from Dry to Sweet, and Hoosier hospitality, Scout Mountain Winery will be your favorite new destination!
Small Towns: Destinations, not Drive-Thrus! I'm Jessica Nunemaker and THIS is little Indiana!
Find pictures in Indiana on my Flickr photostream or on the new little Indiana Tumblr blog.
Just don't forget to tell 'em that  little Indiana sent you!
Scout Mountain Winery
2145 Scout Mountain Rd NW
Corydon, Indiana 47112
812.738.7196

View Larger Map
Don't miss a moment. Subscribe to little Indiana and receive instant updates to stay on top of everything "little."
little Indiana: Where to Stay, Play, and Eat in Small Towns in Indiana. Discovering Indiana's best small towns! Now get little Indiana on your Kindle.
Targeted. Relevant. Affordable! little Indiana advertising.