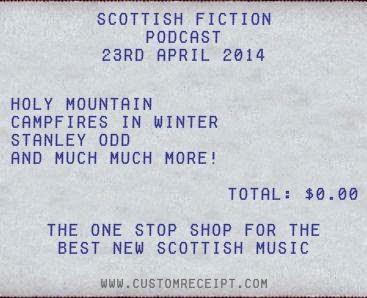 D
ive in my friends for the vibes are sweet and enticing.  Whether you wish to shatter your souls with the blasts of Holy Mountain and Lady North, learn about science with Let's Talk About Space, or get political with Stanley Odd there's a slice of the pie for all.  It's Scottish Fiction, the one stop shop for the best new Scottish music.
Holy Mountain -
Luftwizard
Lady North -
Bum Jiggy
Poor Things - 1998
Bianca -
How About All The Things We Never Said We'd Do
The Twilight Sad - Cold Days From The Birdhouse
Let's Talk About Space -
Ursa Minor
The Last Battle - Breathe Bones
Sean Armstrong -
Metronome River
Stanley Odd - Chase Yirsel
Campfires In Winter -
We'll Exist
Bastard Mountain -
Meadow Ghosts
Subscribe/listen to the podcast via
iTunes
.
Scottish Fiction - 23rd April 2014 by Scottish Fiction on Mixcloud