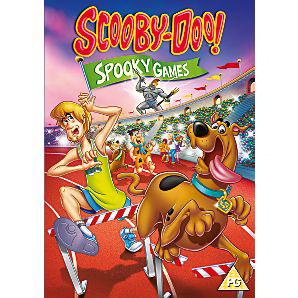 Scooby Doo Spooky Games Review By Casey
Casey loves Scooby Doo so was rather excited when we received the new Scooby Doo Spooky Games dvd through the post. It did not take long for her to watch it and then watch it again and again.
Scooby Doo and his friends go off to compete in the World Invitational Games.
There are 3 teams Casey tells me and they are all racing and they have to get points and whoever gets the most points wins. There is a rotten team who keep stopping the other teams from winning by cheating. They have to try to get a rose out of a bull's mouth she tells me. She loved the activities that Scooby and his gang have to do.
If trying to snatch a rose out of a bulls mouth is not bad enough poor Scooby Doo and the gang are faced with spooky shenanigans along the way too.
The DVD featured the all-new 23-minute episode Spooky Games.The rest of the DVD has older episodes from Scooby's All-Star Laff-A-Lympics.
This 113 minute dvd hosts a range of races and even includes other well-known characters such as Fred Flintstone and Barney Rubble.
Stuck for Xmas stocking ideas? Casey aged 10 says your kids will love this dvd in theirs this year.