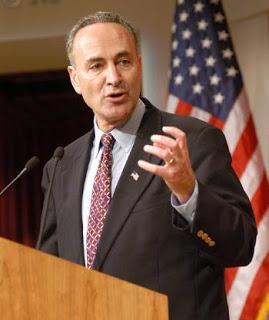 The following is part of an op-ed by Senator Chuck Schumer (D-New York)
at NBCnews.com
:
Change is hard, but it is never impossible. Unlike some countries around the world, when politicians in America fail to rise to the occasion, we have a way to replace them: elections. On Nov. 3, Americans will have a chance to exert their power, refresh the body politic and move our country in a dramatically different direction.
Given the gravity of the issues facing our country, the Senate must confront the deep-seated problems of racial injustice and redeem our nation's promise of equality, fairness and opportunity for all people — immediately.
The direction of our country will thus be shaped by the leaders we select.
I am committed to ensuring the passage of the George Floyd Justice in Policing Act in the Senate. This legislation, developed by Sens. Cory Booker, D-N.J., and Kamala Harris, D-Calif., as well as the Congressional Black Caucus, would ban chokeholds, "no knock" warrants and racial profiling while creating new tools at the state and federal levels to reform police departments engaged in systemic misconduct. It would also make it easier for Americans to hold individual officers accountable when those officers violate people's constitutional rights.
The challenges of racial injustice, though, extend far beyond law enforcement. More than half a century after the Voting Rights Act was signed into law, Republicans are still finding ways to make it harder for Americans of color to vote. In the wake of Shelby County v. Holder, Republican lawmakers have instituted draconian voter-identification laws, eliminated polling locations in the most diverse neighborhoods, purged voter rolls and drawn congressional districts with the explicit purpose of limiting the influence of African American and Hispanic voters
We must put a stop to all forms of voter suppression by passing the John Lewis Voting Rights Advancement Act
Finally, we must open the doors of economic opportunity to communities that have suffered from discrimination and underinvestment for decades. Democrats this year unveiled the Economic Justice Act, a $350 billion investment in child care, mental and primary care and new job opportunities for Black communities and other communities of color. I will work to get legislation passed that would invest — substantially — in communities that have been ignored for far too long.
Faced with a national reckoning over issues of civil rights, voting rights and racial justice, Senate Republicans squandered a historic opportunity to move our country closer to its highest ideals. It can feel disheartening that progress, so long delayed, has been delayed once more.
But you have the power to change that.
In a much different era, bus boycotts, lunch counter sit-ins and a march from Selma to Montgomery shook the conscience of the nation and propelled President Lyndon Johnson and a bipartisan majority in Congress to pass the Voting Rights Act — proving that when we give "the best that all of us have to give," progress is possible.
As our country confronts this once-in-a-generation pandemic and our voices are again shaking the conscience of the nation, we must take up the generations-long struggle for racial justice and equality. I and my colleagues are prepared to do it with bold and far-reaching legislation.
So don't lose hope in the fight for racial justice. Vote.