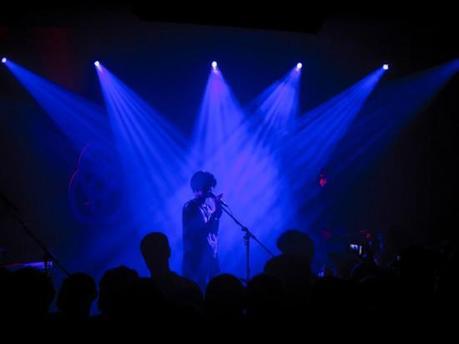 Photo credit: Ethan Feuer
The show that EXITMUSIC (@weareexitmusic) and School of Seven Bells (@sviib) played on Saturday at (le) poisson rouge wasn't the type that you dance or mouth lyrics to — their performances were the kind that transfix and transport entire packed underbellies of Bleecker street. EXITMUSIC's relentless, candid vocals and layered instrumentation, conjuring a bleak, expansive emotional landscape, was the perfect lead-in to headliner School of Seven Bells.
SVIIB, having just returned from five weeks of touring, said a brief but heartfelt thanks to their home crowd before wrecking their minds with an onslaught of indecipherable, crystalline vocals, crisp beats, and intricately-executed loops. The duo, a five-piece on the night in question, played a number of tracks from their recent concept album, Ghostory, including crowd favorites "Lafaye" and "Windstorm". Hopefully, both bands will stick around their home turf long enough for us to enjoy them again. And again. And again.