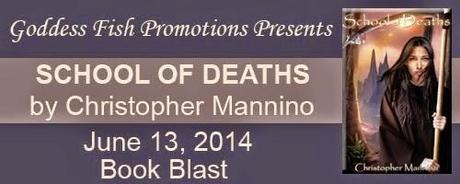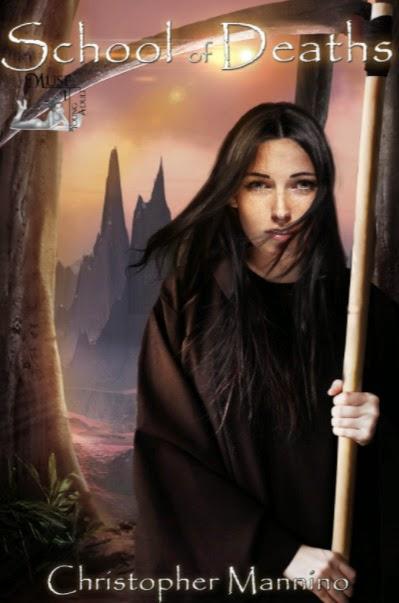 School of Deaths
by Christopher Mannino
BLURB:
A timid girl finds bravery as the first female Death.
Thirteen-year-old Suzie Sarnio always believed the Grim Reaper was a fairy tale image of a skeleton with a scythe. Now, forced to enter the College of Deaths, she finds herself training to bring souls from the Living World to the Hereafter. The task is demanding enough, but as the only female in the all-male College, she quickly becomes a target. Attacked by both classmates and strangers, Suzie is alone in a world where even her teachers want her to fail.
Caught in the middle of a plot to overthrow the World of Deaths, Suzie must uncover the reason she's been brought there: the first female Death in a million years.
EXCERPT
She wanted to scream but no sound came. She wanted to run, but her legs wouldn't move. The hooded man grinned.
Suzie's heart pounded as she opened her eyes. Laughter echoed in the back of her head. The terrible laughter she heard every night. She wiped the sweat from her face, pushing aside the sheets. Sunlight spilled into her room from between frilly curtains. Mom would be knocking on the door to wake her soon.
She turned to one side as the dream started to fade. Every night the same nightmare. Every night she heard the laughter. The hooded man with a scythe. The feeling of complete terror.
What did it mean?
Above her clock radio, a worn teddy bear stared at her with its single eye. She pulled the bear to her chest and clutched it with her bony fingers.
Suzie Sarnio. The hooded man had written her name down. He always wrote it right before the laughter began. The man looked like Death. But why would Death have a stammer?
"Suzie," said Mom, knocking on the door. "Come on, you'll be late for school."
"I'm coming."
Suzie changed, staring at the mirror in her pink-wallpapered room. Each rib stuck out from her chest; she counted all twenty-four. The skin on her face stretched tightly over her skeletal face, and dark patches surrounded each of her gray eyes. As much as she tried to comb it, her long black hair tangled into stringy knots.
AUTHOR Bio and Links: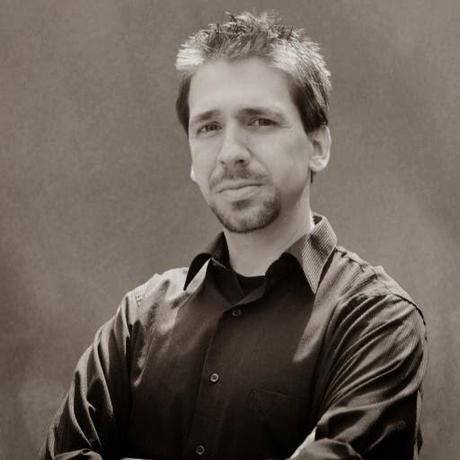 Christopher Mannino's life is best described as an unending creative outlet.He teaches high school theater in Greenbelt, Maryland.In addition to his daily drama classes, he runs several after-school performance/production drama groups.He spends his summers writing and singing.Mannino holds a Master of Arts in Theatre Education from Catholic University, and has studied mythology and literature both in America and at Oxford University. His work with young people helped inspire him to write young adult fantasy, although it was his love of reading that truly brought his writing to life.




Mannino is currently working on a sequel to "School of Deaths" as well as an adult science fiction novel.




links:




http://www.ChristopherMannino.com

(main)


http://poetsfire.blogspot.com

  

(blog)


https://www.goodreads.com/author/show/8108129.Christopher_Mannino

(goodreads)


https://museituppublishing.com/bookstore/index.php/museitup/fantasy/school-of-deaths-detail




(publishers buy link)


Amazon:

http://www.amazon.com/School-Deaths-Christopher-Mannino-ebook/dp/B00K2GC12M/ref=sr_1_8?ie=UTF8&qid=1399457365&sr=8-8&keywords=school+of+deaths


Barnes & Noble:

http://www.barnesandnoble.com/w/school-of-deaths-christopher-mannino/1119059176?ean=2940045799010


Smashwords:

https://www.smashwords.com/extreader/read/423893/1/school-of-deaths

 


https://twitter.com/Ctmannino




https://www.facebook.com/CTMannino




https://www.youtube.com/watch?v=GXSSZN6L128




GIVEAWAY




the author will give a $20 Amazon gift card to two randomly drawn commenters and a $20 Amazon gift card to one randomly drawn host




Please use this Rafflecopter code for entries: 


a Rafflecopter giveaway