New to little Indiana? Subscribe for free to my RSS feed. Thanks for stopping by!
Schnick's Good Eats in Wheatfield, Indiana is aptly named. little Indiana has received more than one email citing it as a "can't miss" restaurant and you know what? They were right!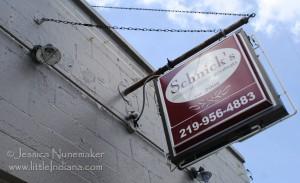 Wheatfield, Indiana: Schnick's Good Eats
Schnick's Good Eats in Wheatfield
Located in the old Wheatfield downtown, you probably wouldn't even know it was here! Lucky for you–you've got little Indiana.
Kidding aside, walking into this place we couldn't believe how busy it was. Various sports memorabilia lined the walls and folks were taking up almost every seat. That's always a good sign.
We actually had to wait a bit to be seated. It's a small, cozy place so when a couple came in after us, we decided to leave the bustling dining room for a spot outside. Talk about a gorgeous Indiana day!
We had the pleasant outdoor seating area all to ourselves! Since it was fenced in, Kid #2 could roam without bothering anyone.
What are You Having
I've heard good things about the Beef Manhattan and the Meatloaf but we were in a more sandwich and lunch type mood. When everything sounds so good on the menu there's only one thing to do…we asked our server for suggestions.
Her recommendation? The Italian Beef sandwich. She said that everything is good but that people love that one.
I claimed dibs while hubs finished making up his mind. He chose The Works Burger–Swiss cheese, mushrooms, and peppers. The kids got Chicken Fingers and a Corn Dog with a side of applesauce.
The Arrival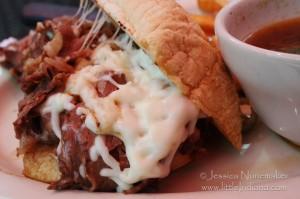 Wheatfield, Indiana: Schnick's Good Eats Italian Beef
Do you see that thing of beauty over there? That Italian Beef sandwich tasted as good as it looks! The fries were simply awesome.
Hubs and the kids were equally enamored over their choices. Which means? That Schnick's Good Eats, in a very small Indiana town, delivered as promised.
But we didn't stop there! This is little Indiana–which means it isn't over until dessert! I've heard about their Peach Cobbler but they were out! So…we made a swap.
Dessert at Schnick's
First, I want you to imagine red, ripe strawberries. Got it? Now imagine them piled on top and around golden shortbread and doused it all in whipped cream. Strawberry Shortcake.
Hubs, who had earlier proclaimed he was not all that hungry for dessert proceeded to eat his share and then come after the remaining! So, yes. You could say it was the perfect ending to our lunch.
Eat at Schnick's
They really do mean "good eats." The four of us had a nice leisurely lunch. We would certainly go back–I'd love to try their Pork Tenderloin Sandwich!
See Schnick's Good Eats images and other pictures in Wheatfield, Indiana on my Flickr photostream.
Schnick's Good Eats
16 N Bierma Street
Wheatfield, Indiana 46392
219.956.4883

View Larger Map
little Indiana: Where to Stay, Play, and Eat in Small Towns in Indiana. Discovering Indiana's best small towns! Now get little Indiana on your Kindle.
New! Offering affordable online advertising for your small Indiana business! little Indiana Businesses is the online presence that you've been looking for.