Do you change your perfumes according to the season? I don't normally, but at the moment I'm trying to use up my current stash so I'm restricting myself to a few different perfumes that I rotate until they're finished. I just finished two perfumes so have pulled out a few that I'm planning on using all summer, hopefully I'll manage to finish one or two of them.
I'm not very good at describing scents so I won't even try, I'll just give you my interpretation.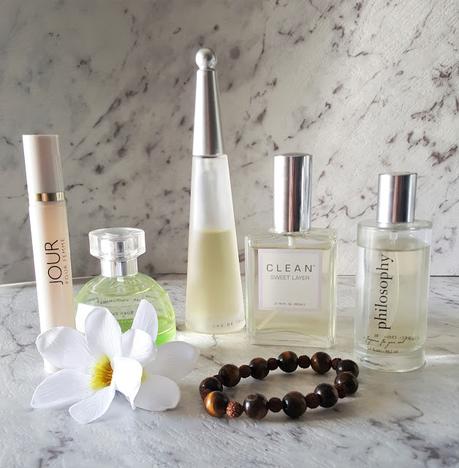 Hugo Boss Jour for her - Of all my summer picks, Jour is the most sophisticated scent, it's the one I wear when I want to feel pulled together and grown up. It's a lovely fresh, summer floral.
The Body Shop Italian Summer Fig - This was love at first sniff. I smelled it in store, sniffed my arm all day then went back and bought a bottle the next day. Also, how pretty is the bottle?
Issey Miyake - I wore this on my wedding day so it holds a lot of sentimental value for me. It'd have to be one of my all time favorite perfumes, I'll immediately replace when it's finished. I love the gorgeous floral scent, it makes me feel all girly.
Clean Sweet Layer - Clean perfumes are a little difficult to find now, so if you see them, grab one or two! I'd love to have more of them, they have a really clean (haha), freshly washed laundry scent. It sounds a little strange, but the smell is beautiful.
Philosophy - I don't think they make this anymore as I can't find it on their website, which is a real shame as it smells beautiful. The scent is fresh, green and reminds me a little of Fresh Sake. 
What's your favorite summer perfume?