Scatter My Ashes at Bergdorf's, while I have worked in Beauty Retail in some major cities around the world working at Bergdorf Goodman in my mind was one of the most eye-opening  experiences ever. There was a financial crisis in the US during 2008 but in the confines of Bergdorf Goodman for us it was business as usual.  The customer is King or Queen, but as employees we were well taken care of, incredible employee discounts, so that you could be part of the world that walked in front of you, an employee dinning room that over looked The Plaza Hotel, Central Park and Fifth Avenue, no basement hideaway for the staff. Employee training and product knowledge to make all other department stores hang their heads in shame, yes BG knew what it meant to offer 'customer service.'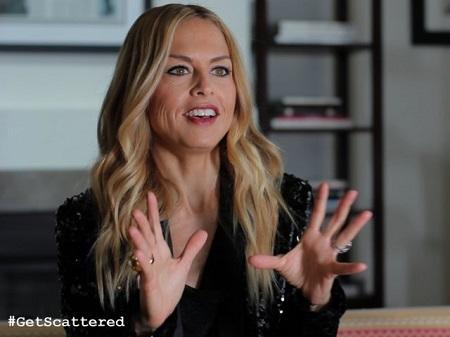 Rachel Zoe
The title of Matthew Miele's documentary "Scatter My Ashes at Bergdorf's"  is basically, a commercial for the department store. But when that  store happens to be Bergdorf Goodman, the 112-year-old doyenne of high fashion that sits on Manhattan's Fifth Avenue just a diamond's throw from Central Park … well, a 93-minute commercial, particularly one made with the wit and style of this one will fnd their audience.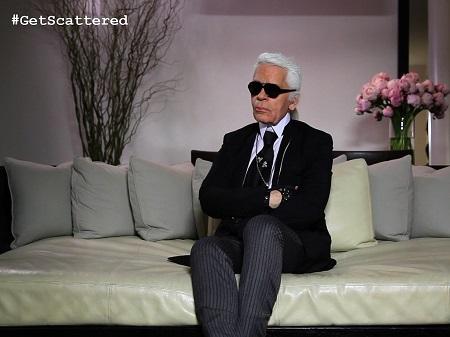 Karl Largerfeld a quiet moment at Bergdorf
The  most mythic of all American emporiums – and the scene of many an ultimate fashion fantasy. Now audiences get a rarified chance to peek behind the backroom doors and into the reality of the fascinating inner workings and fabulous untold stories from Bergdorf Goodman's iconic history. The legend, the parties, the fashion idols, the windows, the women, the buyers and shoppers — and most of all, the quintessentially American dreams of New York's high-fashion hot-spot – all come to life in an ode to a realm where creativity and commerce reign equally supreme. A look at not just the glamour but the passion behind the daily creation of this luxury mecca in a film as dynamic, lush and intimate as the store itself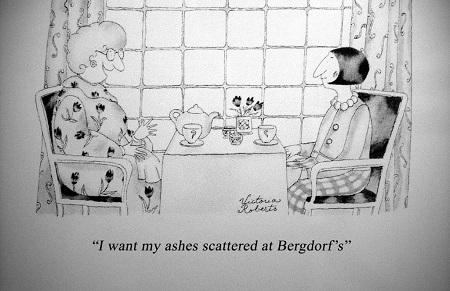 Scatter My Ashes at Bergdorf's
There's Karl Lagerfeld, looking like he's on a break from duty on some sort of extremely dapper firing squad; "Sex and the City" designer Patricia Field, hair glowing like a cherry lollipop; Michael Kors, rasping from behind his sunglasses; legendary Bergdorf's personal shopper Betty Halbreich, clearly someone you wouldn't want to mess with. ("What would you be doing if you weren't doing this?" an off-camera voice asks her. Halbreich, who's in her 80s, doesn't pause for a second: "Drinking.")
A fascinating middle section of the film describes the history of  Bergdorf Goodman or  BG's dignified 1920s building, which sits on the lot of the former Vanderbilt Mansion, and which for many decades housed the Goodman family in a 16-room apartment on the top floor. (The Goodmans had to be registered as janitors, in order to get around building-occupancy codes.) And it's a treat to follow the progress of the store's famously fanciful holiday window displays, which provides a throughline for the film. They are, when finished, a gloriously gilded wonderland — the stuff of dreams, on view for everyone.