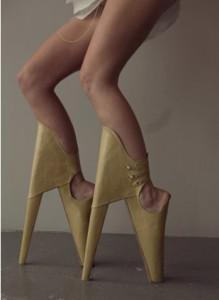 Scary Beautiful shoes by Leanie van der Vyver. Photo by Lyall Coburn
What the??? Wait…huh? Yes, these are shoes. Who's wearing them? Well, your guess is as good as mine.
No surprise, these shoes have been dubbed "Scary Beautiful" (although the beautiful part is up for debate) and are a collaboration between artist Leanie van der Vyver and Dutch shoe designer René van den Berg.  They serve as a commentary on the impossibly high standards of today's beauty.  Okay, that part I get.
The shoes, which look like they are on backwards, are worn with the wearers foot pointing straight down the back and the shin leans against the back of the shoe's "heel" to create balance.  
Van der Vyver, a South African, and recent grad from the Gerrit Rietveld Academie in Amsterdam told Yahoo! Shine exclusively, "After working in fashion for seven years, and therefore being well aware of the manipulation images in fashion suffer for a perfect result, I still compare myself to them and other current beauty ideals."
Van der Vyver's "Scary Beautiful" shoes were nominated for a design prize at Gerrit Rietveld Academie.
Want to see these shoes in motion…VERY slowly?   Check out this video.