A Scarlett Johansson Fairy Tale Fashion Fantasy
There once was a fair maiden
named
Scarlett Johansson
. She dreamed of living in the wanderlust of the
fashion world
. The only way this was possible is if she could find the
magical green dress
. The
magical green dress
possessed
python poison
that could transform any little wafe into a fashion model of today.
So Scarlett wandered across the Internet galaxy
searching and scouring the Internet divide until she came upon the mysterious forest of
Otteny
Place
. There
Scarlett
found the
"magical green dress"
and the
python poison
that it possessed; but the slithering
Python Snake
possessed the dress and she had to feed the snake a sneaky dirty rat. In order to own the
magical green dress;
she had to acquire a pair of
Loeffer Randall
Filippa migon flat sandals
to trade for a sneaky dirty rat.
Scarlett took the Filippa mignon flat sandals
and traded them for the sneaky dirty rat and returned to the slithering Python snake to make her trade. She placed the sneaky dirty rat before the Python; he grinned as he gobbled the dirty rat. Then Scarlett felt a wonderful warm transformation come over her. She looked at herself; the
"magical green dress"
had transformed her into the fashion model that she had dreamed of...happy shopping my little wanderlust...hope you like my little fantasy fashion story.
~------------------------------------------------------------~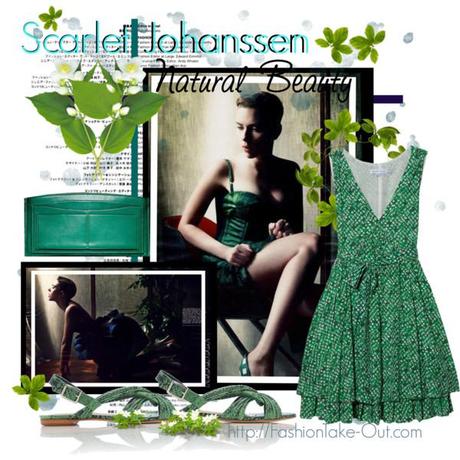 OH Scarlet; You Natural Beauty by
fashiontake-out
featuring reed krakoff handbags