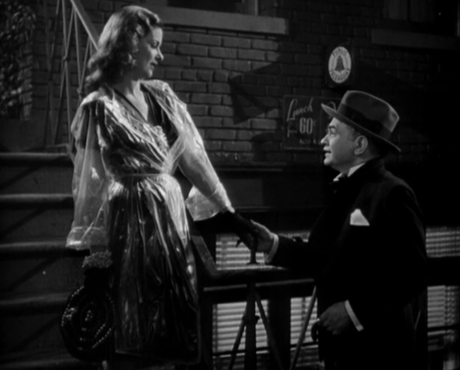 Reteaming his stars from The Woman in the Window, Fritz Lang adapts George de La Fouchardière's novel La Chienne into a grim film noir. By 1945 standards, Scarlet Street is a provocative work: neither protagonist nor villains emerge unscathed.
Chris Cross (Edward G. Robinson) is a milquetoast accountant married to shrill Adele (Rosalind Ivan). He's a skilled painter but too shy to share his talent. Then Chris "rescues" Kitty March (Joan Bennett) from boyfriend Johnny Prince (Dan Duryea), quickly growing smitten. At Johnny's urging, Kitty strings Chris along, believing him to be a famous artist. Kitty and Johnny steal Chris's paintings and sell them for cash. Chris's affection grows increasingly desperate, employing Adele's ex-husband (Charles Kemper) for a harebrained scheme.
Lacking hardboiled detectives, Scarlet Street otherwise codifies noir. Dudley Nichols' script sings with snappy dialog and cruel irony. Chris's white lie about painting backfires when Johnny and Kitty sell his work. Then Johnny's scheme succeeds too well when Chris's paintings sell for thousands. Kitty becomes an artistic icon! Johnny's comeuppance seems karmic but wholly disproportionate to his low-ball scheming. And Chris destroys himself pursuing a repressed fantasy, unraveling his spotless reputation.

Here Scarlet Street resembles the man-trapping melodrama of The Blue Angel, yet it's miles more sophisticated. Chris is such a loser that his actions seem almost credible: Kitty's truly the only excitement he's known in life. And notably, Kitty's surprisingly human for a femme fatale. For all her scheming she truly loves Johnny, even though (or because) he's a complete heel. These shadings elevate Street above the usual clichés.
Lang's direction is effective, though relatively straightforward. He indulges in trademark stylistic effects, set pieces where dialog fades out for music or ambient sound (pouring rain, whistling trains). Yet Milton R. Krasner's photography largely eschews looming shadows, instead contrasting Chris's drab lifestyle with Kitty's ill-gotten decadence. Scarlet Street's less flashy than some of Lang's flicks but no less effective.
Edward G. Robinson's bulldog earnestness makes Chris's fall more painful. Joan Bennett (Man Hunt) dominates with a fiery turn, all biting wit and effortless sensuality. Dan Duryea (Winchester '73) makes a perversely preening psychopath, trapped by his own cleverness. Supporting roles go to Rosalinda Ivan, Jess Barker, Charles Kemper and Russell Hicks.
Scarlet Street ends with its protagonist financially and mentally broken, his tormentors triumphant even in defeat. Even by noir standards it's a remarkably savage conclusion - though anything less wouldn't feel right.