To say that the Sazerac is a classic American cocktail is not entirely accurate. Though inevitably some drink historians disagree, for the most part the Sazerac is considered the oldest known cocktail created in the New World, making it the classic American cocktail. Invented in New Orleans sometime before 1830, the Sazerac is also considered one of the several official cocktails of the Crescent City.
We've seen some recipes that call for bourbon, but for historical accuracy nothing but rye will do. Also, if you have it on hand, always opt for Peychaud's bitters.
4 oz rye
1 tsp simple syrup
1 tsp absinthe
2 dashes of bitters
Fill a mixing glass halfway with ice and add rye, simple syrup and bitters. Pour the absinthe into a rocks glass and swirl until the absinthe coats the inside of the glass. Stir the rye, simple syrup, and bitters and strain into the rocks glass. Garnish with a twist of lemon.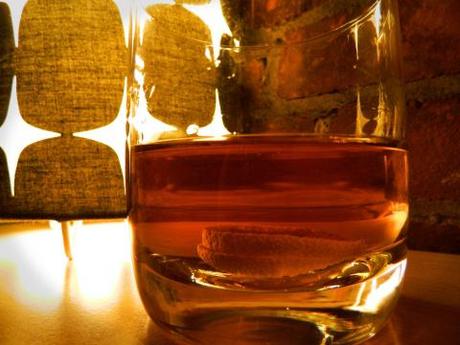 The Sazerac
Advertisement