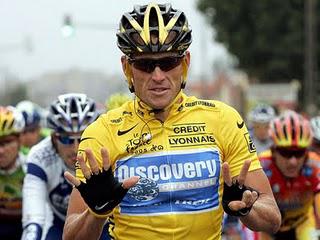 Armstrong celebrating 7 Tour victories - were they all legitimate?
Lance Armstrong is one of the most successful athletes in history. After recovering from near fatal testicular cancer, he won the Tour de France, by far the most visible and prestigious (and rigorous) cycling stage race, a record seven times in consecutive years from 1999 through 2005. In the process, he rose to international fame, and became a hero and inspiration to many, including this blogger. Along with his rising fame came an impressive growth in the Lance Armstrong Foundation, which has raised awareness for cancer, provided support for survivors, and raised more than $300 million for cancer research. This impressive legacy may soon be severely tarnished.
As reported this past week in several articles and tonight on the weekly news show 60 Minutes, yet another series of accusations has been leveled at Armstrong by one of his former teammates. Tyler Hamilton claims that Armstrong cheated, doped in cycling lingo, by using performance enhancing drugs (PEDs) to win at least some of his "Tours". Armstrong has denied these claims. Hamilton's accusations are just the latest in a long list.
Almost from the conclusion of his first Tour victory in 1999, there were whispers that Armstrong's performance was "unnatural". After all, he was less than two years removed from intensive cancer treatments, including chemotherapy. When he returned he was physically different, thinner but an immensely strong climber and a powerful time trial-er. Some, especially among the cycling community in France, thought the story was too good to be true. Through his following Tour wins, the suspicions continued. Armstrong worked with Italian trainer Michele Ferrari through 2004, who was connected to distributing banned substances to riders. Armstrong denied any knowledge of these activities. After his final Tour victory in 2005, allegations were circulated that frozen "B" samples of urine from the 1999 Tour, supposedly matching Armstrong's rider code, tested positive for the EPO, which ups red blood cell production (and therefore increases aerobic performance). Questions over the chain of custody in the intervening years and the fact that "B" samples are meaningless without the corresponding "A" samples, which were disposed of after 1999, lessened the impact of these allegations.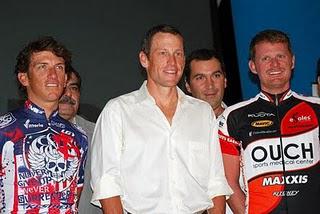 Armstrong with Hamilton (left) and Landis (right
Later, former teammate Frankie Andreu and his wife stated during a deposition for a lawsuit between Armstrong and a sponsor, that they overheard Armstrong tell a doctor during a cancer treatment that he used PEDs. The case was settled out of court without further discussion of the doping allegations. In 2010, disgraced former teammate Floyd Landis admitted to doping - four years after he was stripped of the 2006 Tour victory for irregular testosterone levels consistent with doping. At the same time he accused Armstrong and other members of his team of systematic doping. Now Tyler Hamilton, another disgraced former teammate, who twice tested positive for banned substances and returned his gold medal from the 2004 Summer Olympics, has substantiated Landis' accusations. Armstrong has responded that both Landis and Hamilton are lying and lack credibility due to their past behaviors.
Armstrong has repeatedly and consistently denied ever using PEDs. He has taken hundreds of in and out of competition drug tests, passing them all. So far, the allegations leveled against him are entirely circumstantial, which is unusual in a sport where hard evidence, in the form of a failed drug test or confession, are how cheating riders are almost always exposed. However, the latest development may undermine Armstrong's defense. There are unconfirmed reports that a highly respected teammate and friend, George Hincapie, testified to a federal grand jury investigating doping by members of the U.S. Postal Service Team (Armstrong's former team) that he, Armstrong, and other members of their team participated in a doping program. Hincapie, still a professional rider, has never been linked to doping and has remained close to Lance Armstrong throughout his career. He has no axe to grind. Armstrong has released a statement that Hincapie's testimony is sealed and therefore the reports cannot be verified. Hincapie has refused to discuss his testimony, as he is legally prohibited from doing, and has stated that he has spoken to no one about the substance of his questioning in front of the grand jury. That's certainly not the same thing as stating the Lance did not use PEDs.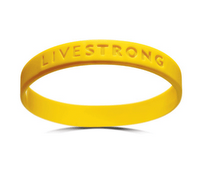 Livestrong bracelet worn by millions
Together, these myriad accusations paint a broad picture that shows Armstrong had access to doctors and trainers connected with banned substances; that he used substances, namely EPO, during his early Tour victories that could not be tested for at that time; and that he was surrounded by teammates who later tested positive for banned substances (though not during their tenure on Armstrong's teams). That's a lot of smoke. Add to this the fact that cycling has a long, sad history of doping, and you can see how Armstrong, along with all riders in the professional peleton, was surrounded by a culture that at a very minimum turned a blind eye to cheating.
So what does it mean if these allegations turn out to be true? What will it mean for Armstrong and for cycling? A few thoughts:
Cycling has been dogged by one doping scandal after another since Armstrong retired. Landis was stripped of his title after the 2006 Tour; Michael Rasmussen, the leading rider of the 2007 Tour, was withdrawn while leading the race because of suspicious activity surrounding out of competition drug tests; the entire Astana Team was banned from the 2008 Tour because of systematic doping over the previous year; and just last year three-time winner Alberto Contador tested positive for a banned steroid, though this result is still in doubt and may not in fact be the result of cheating. Bjanre Riis, currently a team director, admitted to doping during his 1996 Tour victory. Back in 1998 the Tour nearly ended early because of in-race busts that revealed a doping program in the Festina team. The team was summarily disqualified from the race. Together, these events have undermined the public trust in the sport and of the athletes. 
On the contrary, the Armstrong years were free for the most part of major doping stories, particularly because of the apparently legitimacy of Armstrong's performances. If it is now revealed that Armstrong did cheat during one or more of his Tour victories, then cycling may suffer a fatal blow. Yes, a professional circuit may continue, and the grand tours will still be ridden, but public interest, sponsor support, TV and other media coverage may be greatly reduced. This would be a pity because events like the Tour de France are a wonderful sporting exhibition.
Armstrong has earned the tremendous goodwill and support by countless millions around the world and especially in the United States. Among them are cancer patients and survivors, sporting enthusiasts, and a general public fascinated and inspired by the story of a man who successfully fought for his life, and then rose to achieve the highest glory in perhaps the world's most difficult sporting challenge. If he is disgraced, most of this support will vanish, many people will be disillusioned (or further disillusioned) and disappointed. Armstrong will suffer a vicious backlash. One can only hope that his foundation, which has done great work, will not be adversely affected.
In the end, cycling and other sports plagued by PED use can be reformed. I hope they will be. And perhaps we can understand, if not condone, the behavior of athletes that cheated out of a desire to "keep up" with others they knew were cheating; athletes who chose to participate in a culture of cheating. That noted, cheating cannot be ignored or forgiven. Sports are in some ways a microcosm of our culture. We like watching fair competition, seeing the best team or athlete win. We cannot tolerate cheating as an excuse to get ahead. If Lance Armstrong cheated to win one, two, or all of his Tours then that should be exposed, his victories taken away, and his legacy diminished. I hope it's not the case. I hope Lance Armstrong can remain a hero, but it's getting harder and harder to believe his denials.