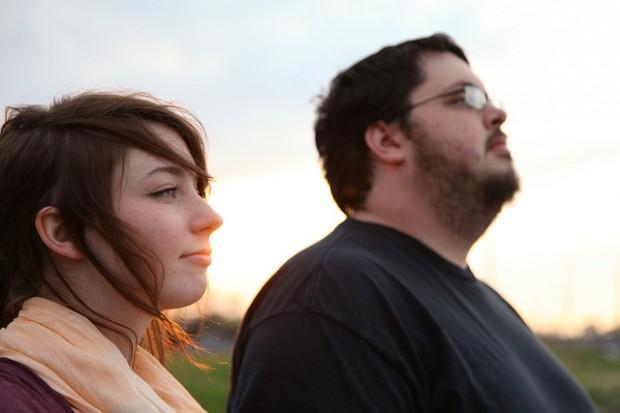 Another band finding themselves in the midst of an indie-folk revolution, The Oh Hellos have snuck quietly onto the scene and are quickly building a solid fan base. Comprised of Texas siblings Maggie and Tyler Heath, the duo makes music drenched in layers of vocal and guitar harmonies and full of foot stomping rhythms. Maggie and Tyler began recording together in 2011, releasing their first EP at the end of the year. Last October the band released their first full length, Through the Deep, Dark Valley, and have described it as a "self contained concept album that's best listened to in it's entirety in one sitting". Many of the songs are big and boisterous — which only adds to the joyful quality that the album seems to radiate.
A personal favorite from the album, "The Lament of Eustace Scrubb", clearly draws influence from traditional Irish folk songs and is actually a reference to a character from the Narnia series by C.S. Lewis. When the second minute of the track rolls around, you'll undoubtedly be tempted to grab the girl (or guy) next to you and dance around in circles like Jack and Rose before the big ship went down. I say go for it. The album as a whole contains many of these upbeat tracks, such as "The Valley" and "Second Child, Restless Child". It's also ripe with slower, more contemplative songs, like "Wishing Well" and "Like the Dawn", each of them progressively building up to a big, cinematic moment.
The two have yet to tour and are currently searching for the right band members to translate their album onto the stage. Once they find them, though, the duo will easily craft a fantastic show — it's certainly an experience I'm looking forward to.
I was able to chat with Tyler from the band and ask him a couple quick questions. Check out the answers below!
What exposure have you had to traditional Irish music and for what reason do you think it has manifested itself in your own?
I honestly couldn't tell you when or how it started, but over the years our family has developed a strong appreciation for Irish music, and the country itself. In the summer of 2010 we took a two week vacation to Ireland and sat in pubs listening to singers and sessions almost every night. It was easily one of the best experiences in my life, and all four of us are still pining to go back.
Eustace Scrubb. I'm assuming you were big fans of the Narnia series growing up — What about that character inspired you to write the song?

I actually wrote a solid chunk of this song before work really even started on the album. The Chronicles of Narnia were indeed some of my favorite books growing up, and I like to read through them again every once in a while. I wanted to write a song about Eustace because he starts out as this stubborn and selfish kid who only thinks about himself and winds up in a pretty bad place because of it; it's only when he hits rock bottom that he realizes how horrible he's been to everyone around him, and how unwarrantedly good they've been to him in turn. If you look at the narrative of the album, songs at the beginning can be paraphrased as saying "I do what I want", while songs towards the end say "wow, I messed up". However, the whole thing is woven through with the hope of redemption and a desire for forgiveness, and Eustace's story is very similar.