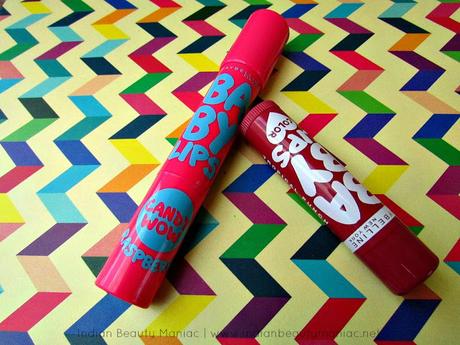 Maybelline Baby Lips Candy Wow - Review
About the Product:
Winter is coming! And with it, the season of dry and chapped lips. As you know, Maybelline New York has an exciting and wide range of lip balms under the franchise 'Baby Lips' that will help you kiss away winter dryness. Baby Lips is one of our bestselling products and has been a favorite among all our Maybelline girls since it's launch.
This time, Baby Lips has launched a new range of lip balms called the Baby Lips Candy Wow range to make your winter exciting and fun.Baby Lips has moved beyond the basic lip balm stick and now comes in the form of a crayon pen! Enriched with Vitamin E, this chubby stick will help you wow your lips in 5 candy shades -  Raspberry, Mixed Berry, Orange, Cherry and Peach. Now take intense care of your lips this Winter and pop them with a dash of color with the fun and sweetness of a candy.
Here are the reasons why you'll love the new Baby Lips Candy Wow:
- Available in 5 new shades
- Delicious, candy flavors
- 1st lip balm in a pen
- Enriched with Vitamin E to make your lips look better
- Gives supple and better-looking lips
- Visible results instantly
- Only for Rs. 275/-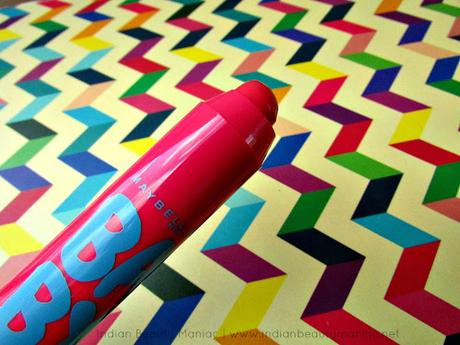 Maybelline Baby Lips Candy Wow in Raspberry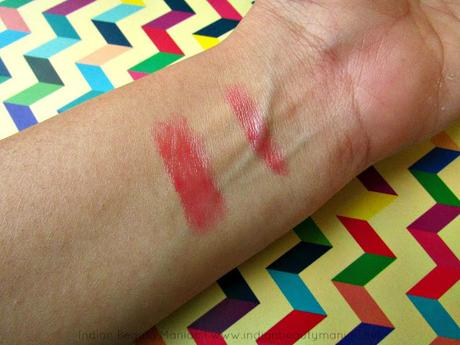 Maybelline Baby Lips Candy Wow in Raspberry - Swatch

REVIEW
I am so impressed by the looks of these. They look like a fun version of the traditional chubby sticks. But unfortunately, my candy wow had a loose cap and it was not at all travel friendly.
The formula is similar to their Baby lips lip balms but with a better pigmentation. I have the shade Raspberry with me. When i swatched it i was almost scared as the pigmentation seemed so similar to their Color Bloom lip balm which intensified over the period of your wear time. I am not a fan of "intensify over time" products as they dont give me an idea of how i will look when i put them on and it is very dangerous. :D 
This one is almost like a buttery lipstick. It imparts glossy color with moderate coverage. Those with extremely pigmented lips may not like it but for me, I can almost skip my lipstick for a casual laid back look. 
The glossiness stays for about two-three hours and then starts to fade away. It makes my lips feel well moisturized even after it fades away which is a huge plus! But I don't think you can use it as a traditional lip balm beneath your lipstick as these are quite pigmented. But I wore it beneath my lipstick twice after heavily blotting it down and it did a great job in keeping my lips moisturized!
They have this distinctive candy like fragrance which i personally dont like. It feels odd when you have this on and about to sip coffee/tea etc. But i am sure there are lot of girls who will adore this fragrance and the sweetness. 
The only negative aspect I found about this product is its pricing. Though the packing makes it look huge than the regular baby lips, the quantity is just 2g whereas the regular baby lips lip balms come in a 4g tube at Rs. 135/-. And apart from the packing and a slightly better pigmentation there is nothing else to justify the pricing.
I will not repurchase this particular product again as I am quite happy with their regular version of baby lips.
Have you tried the Candy Wow's? How did you like it? Do share your views in the comment section below!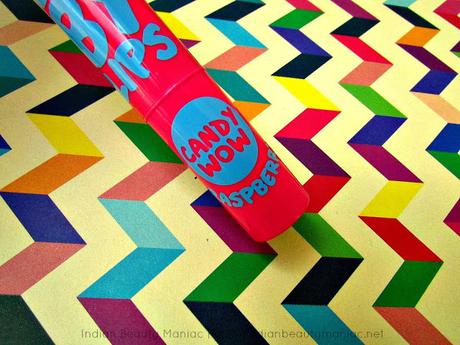 Maybelline Baby Lips Candy Wow 
And, do not forget to follow Maybelline for latest updates, fun contests and lots more!
Facebook: 
www.facebook.com/maybellineindia
Twitter: 
https://twitter.com/MaybellineIndia
Instagram: 
www.instagram.com/maybellineindia
blog; 
www.instaglam.in