Microsoft have decided to replace at fairly popular Hotmail free email system with Outlook. Outlook is a product Microsoft claim to be "for the next billion mailboxes" of the web era.
The experience according to Microsoft will be vastly different to that of hotmail, it will be an email system designed for the modern world – and as you can see from the screenshot below has probably been designed by the same team as Windows 8.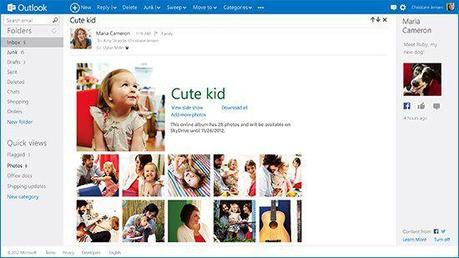 The new outlook has integration with skype, facebook and twitter. It kind of feels like being in Gmail only, in my view, a little more clunky – though it is quite fast.
We are also hearing Microsoft are taking a leaf out of GMail's book and will offer huge amounts of storage for free.
It went into preview mode yesterday and some users can now see the new design.
If you are using the new Outlook email system, let us know what you think, leave a comment below.
Thank you for reading Say Bye Bye to Hotmail and Hello Outlook!, originally published on TechDrink. Ben Greenwood is the founder and editor of TechDrink. You can follow him on Twitter and Google+. You can also follow TechDrink on Facebook, Twitter and Google+.