This Savory Mushroom Stew is absolutely perfect for those cold, rainy evenings when you just want something warm and hearty.
You know…. comfort food!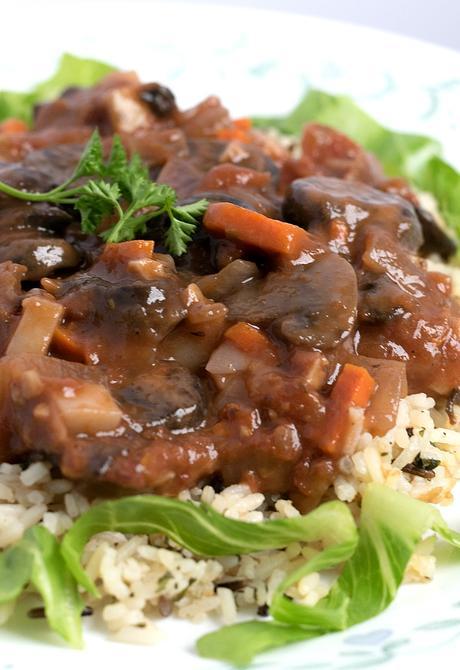 And what's more comforting than a thick, rich stew poured over some freshly made mashed potatoes or even some fluffy wild rice?
Thick chewy mushrooms
Caramelized onions
With little bits of chopped carrot and potato
All swimming in a rich and savory broth of Veggies and Red Wine.
Mmmmmmmmm……..please pass the rolls!
Savory Mushroom Stew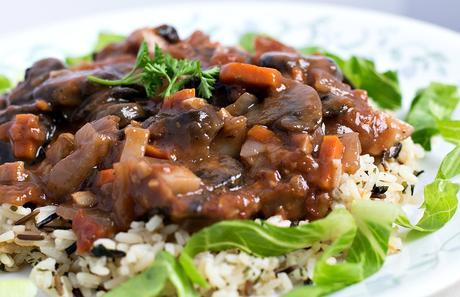 Savory Mushroom Stew | Brand New Vegan
I was fishing around the refrigerator last night looking for something to cook, and spied a few cartons of mushrooms that needed to be used up.
Mushroom Stew it is.
It's quick, it's hearty, it's low-fat, and it's that "stick to your ribs" kind of filling, especially when you pour it over some lovely starches like rice, pasta, or potatoes.
We're going to start by sautéing a chopped carrot and onion in about 1/3 cup of vegetable broth until softened and slightly browned.  Just be sure and keep things stirred up a bit so nothing sticks.
Add a little salt and pepper here to season and then save them to another bowl.
To our now empty pot,  add an 8oz package of Brown Mushrooms (Baby Bella) and another 8z package of White Mushrooms (Button, Crimini)  and cook over medium heat until softened.  The mushrooms will release their own liquid so there should be plenty of moisture for cooking.
You can always add a splash of Veg Broth if it looks like anything's going to stick.
Season the mushrooms with ¼ tsp of Thyme,  ¼ tsp of Rubbed Sage, and a dash of red cayenne pepper.  Stir to combine and stir in 1 Tbs of Tomato Paste and a 15oz can of Diced Tomatoes.
Let that simmer for 3-4 minutes and then evenly sprinkle in 1 Tbs of Flour to thicken it up.
Stir the onions back in and add ½ cup of Red Wine.  Any flavor will do and the alcohol will be completely evaporated off.
The Wine adds a richness that's hard to duplicate with just water or Veg Broth alone.
Finally, add in 1½ cups of Vegetable Broth , 1 chopped potato, and 2 cloves of minced garlic.  Allow that to simmer until the potatoes are soft and cooked through…..about 15-20 minutes.
Season with 1 Tbs of Soy Sauce, ½ tsp Red Wine Vinegar, and a few shakes of salt and pepper.
You can serve as is, or ladle over cooked rice, pasta, or mashed potatoes.
As always, please leave those comments!  I love hearing from you!
Enjoy!

Save
Print
Savory Mushroom Stew
Prep time:  15 mins
Cook time:  30 mins
Total time:  45 mins
Serves: 4-6 Servings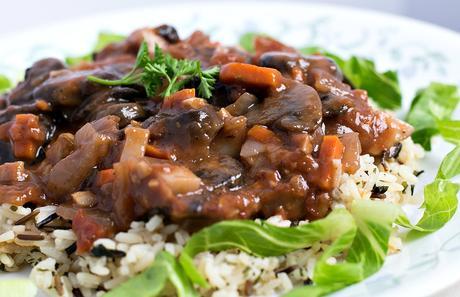 This Savory Mushroom Stew is absolutely perfect for those cold, rainy evenings when you just want something warm and hearty. You know.... comfort foods. Ingredients
1 Yellow Onion, chopped
1 Carrot, diced small
1/ 3 cup Low Sodium Vegetable Broth
Salt, Pepper
8oz Brown Baby Bella Mushrooms
8oz White Button Mushrooms
¼ tsp Thyme
¼ tsp Rubbed Sage
Dash Cayenne Pepper
1 Tbs Tomato Paste
15oz can Diced Tomatoes
1 Tbs Flour
½ cup Red Wine
1½ cups Low Sodium Vegetable Broth
1 Potato, diced
2 Garlic Cloves, minced
1 Tbs Low Sodium Soy Sauce
½ tsp Red Wine Vinegar
Instructions
Saute onion and carrot in ⅓ cup veg broth until softened and lightly browned
Season with salt and pepper
Remove to separate bowl.
Add mushrooms to pot and cook over med heat until reduced
Add thyme, sage, and pepper and stir to combine
Add tomato paste and tomatoes and simmer for 3-4 minutes
Sprinkle on flour and mix well
Stir the onions back into the pot.
Add Red Wine and mix well
Add remaining Veg Broth, potato, and garlic and simmer until potato has softened
Season with Sou Sauce and Red Wine Vinegar
Notes Serve as is or ladle over Mashed Potatoes, Pasta, or Rice 3.5.3208