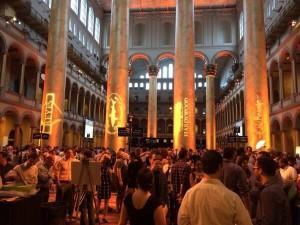 Billed as the nation's preeminent beer and food pairing event in the U.S., SAVOR attracts interest from a large number of breweries from across the nation, many of whose beers are not available in this year's host city, Washington, D.C. The other attraction of SAVOR is the food, as each of the 156 featured beers is paired with a small-bite hors d'oeuvre by Adam Dulye, Chef/Owner of San Francisco's, The Monk's Kettle and The Abbot's Cellar creates the pairings.  So, to call SAVOR a "beer and food festival" would be a severe understatement.  It truly is an experience, and that can alter the way you think about beer and food.

Before even touching beer and food, SAVOR sets the mood properly by hosting it in one of Washington, D.C.'s most beautiful event spaces, the National Building Museum's Great Hall.  With its high ceilings, "colossal 75-foot-tall Corinthian columns, and a 1,200-foot terra cotta frieze," the Great Hall resembles more of an Italian palazzo than a
former pension building
. Not to be outdone, the quality of the beer was outstanding, as each of the 76 breweries brought two of their best beers, most being a select seasonal or a "big bottle."  Notably, there were a large number of sour beers, likely because they are relatively versatile, and tend to cleanse the palate better than the average beer.  Many others brought some kind of dark, malty, smokey beer, which tended to pair well with desserts.  Generally speaking, the floorplan waas very open, and the lines for each brewery were relatively short, allowing for plentiful tastings.  Although there were some notable backups: Dogfish Head owner and beer celeb Sam Calagione assumed the helm of 
his company's taps for a spell and the line for Dogfish Head products exploded, eventually extending for about 25% of the Great Hall.    
Unfortunately, the food experience was not as pleasant. In many cases, the tasting plates located next to each brewery were empty (aside form the stuffed mushrooms, for whatever reason), and the lines were almost prohibitively long at the two food stations located at either end of the hall (one for charcuterie, one for oysters).  
With only 2.5 hours, it seems as if one would would want to experience as much as possible, and standing in line for 20 minutes for few pieces of meat or raw bar seems a bit difficult to rationalize, especially for the steep ticket price (~$120+).
That steep ticket price, though, keeps the crowds at bay, so SAVOR never felt particularly crowded, even during peak hours of the event.  The food pairings, when they were available, were usually outstanding, and featured a wide variety of flavors and textures.  
For this author, the pairing of the evening was 
Lucid Brewing's Halucidation – Solera
, a beer-wine hybrid, with a strawberry-rhubarb tart.  H
onorable mention to Baxter Brewing Co.'s Summer Swelter Ale (an unfiltered wheat beer)
 paired with a duo of compressed melon with yuzu (incredibly refreshing).  
Overall, despite its drawbacks (ticket price, lack of readily available food samples), SAVOR is a fantastic experience, and worth checking out if you love beer or food, or want to put your palate to the test.  Although, a word to the wise: be sure to fortify yourself with a "fulfilling snack" before going.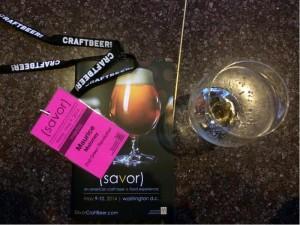 As mentioned in my SAVOR preview, future columns will focus on a number of breweries, some established, some new, that engage in sustainable business practices, including:
Crazy Moutain Brewing Company (its Neomexicanus Pale Ale, made with a native Southwestern U.S. hop varietal was a SAVOR highlight)
Odell Brewing Company
Oakshire Brewing
Baxter Brewing Co.
Ithaca Beer Company
Left Hand Brewing Company
Lickinghole Creek Craft Brewery (a fantastic Virginia farm brewery with Belgian tendencies)
Rahr & Sons Brewing Co.
N.B., Throughout the weekend, there were other beer events in the city, and at a meeting of the Guild of North American Beer Writers, I caught up with Dan Kleban, founder of Maine Beer Company (MBC).  Revolutionary Spirits featured MBC earlier this year, and we will be following up with them in due time.
You can follow me on Twitter and Untappd @RevoSpirits