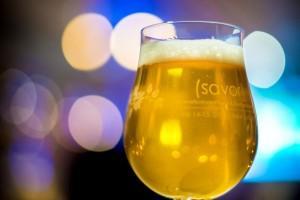 Not content with just producing tasty beverages, the craft beer community is continuously striving to elevate beer to the fine-dining beverage of choice.  As recent literature suggests, beer is actually the superior beverage for food pairing due to its wide range of flavors and its palate-cleansing ability.  As such, beer and food pairings are becoming quite popular in the festival circuit, with the most prestigious, SAVOR, being held this weekend in Washington, D.C. For its seventh edition, SAVOR will showcase 76 small and independent American craft breweries from 29 different states, along with a diverse array of food pairings designed by Brewers Association culinary consultant Chef Adam Dulye, co-owner/chef of San Francisco's The Monk's Kettle and The Abbot's Cellar.  More than just beer and food, SAVOR also features a number of educational salons on various subjects including barrel aging, bottle conditioning, and the effects of glassware on beer.    
Revolutionary Spirits (@RevoSpirits) will be in attendance this year focusing on how many of those small and independent breweries are adjusting their beers to keep up with evolving palates, while still maintaining their eco-sensibilities and sense of community.  These include newer breweries, like Baxter Brewing from the former mill town of Lewiston, Maine; Lickinghole Creek, one of Virginia's first "Farm Breweries"; and Texas's own Rahr & Sons Brewing Company.  We will also get a chance to meet some of the more established craft breweries, such as Bell's and Left Hand, which are rapidly expanding.  Finally, we will revisit a number of breweries that have been featured in previous columns, such as New Belgium, Smuttynose, and Victory.  On Friday, May 9, we will be tweeting out thoughts and photos from SAVOR, followed by a more formal write up of the event, as well as other weekend events, on Sunday, May 11.  Additional brewery profiles from Savor will continue throughout the summer.   You can follow us on Twitter and Untappd @RevoSpirits.
'PHOTO © 2013 JENSEN SUTTA'.