Have you ever thought about how much toilet paper, tissues, paper towels and other paper products your family uses? If your family is typical of those in the United States or Canada, the amount is staggering! According to
Caboo
, 27,000 trees are lost daily just to make toilet paper. These trees need to be replanted and take 20-30 years to grow to their former height. Plus, plenty of harmful chlorine bleach is used to whiten tree-based paper. Fortunately, Caboo has a much better alternative than tree-based products or even products made from recycled paper -- bamboo!
Now, you're probably thinking, if they use bamboo, won't that take valuable food away from endangered pandas? That's a good question, but the answer is "no." Watch the video below to see how Caboo makes its bamboo products and why they're better!
Check out the following products made by Caboo: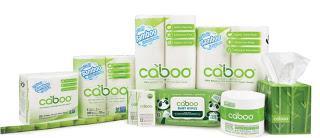 Bathroom Tissue
Kitchen Roll Towel
Facial Tissue
Table Napkins
Baby Wipes
I had the opportunity to review Caboo table napkins, facial tissue and bathroom tissue. All three of these products held up well and seemed just as strong as my usual brands. The bathroom and facial tissues weren't quite as soft as the "luxury" brands I'm accustomed to, but they were certainly nicer than many recycled products or those you'll find in public restrooms. And I felt really good in knowing that we were saving some trees!
If you're concerned about all of the paper products that your family or co-workers use, give Caboo products a try! Click here to see where you can purchase Caboo products.
Follow Caboo on:
Website:
http://www.caboopaper.com
Blog:
http://caboopaper.com/blog/
Facebook: http://facebook.com/caboopaper
Twitter:
http://twitter.com/cabooproducts
Instagram: http://instagram.com/cabooproducts

Disclosure: I received complimentary product samples to facilitate my honest review.