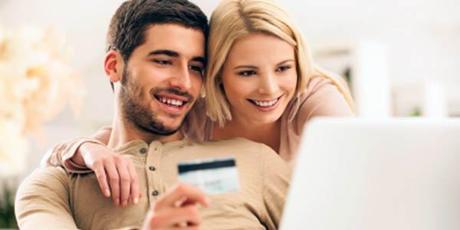 If you regularly shop online, you could save hundreds of pounds by using a cashback site. Read on to find out what they are and how they work.
What is a cashback site?
Cashback websites reward you for shopping with certain online retailers. They earn commission for referring customers to certain online stores, then pass some or all of that commission on to you. The commission can be a percentage of what you spend or a set amount. If you do a lot of online shopping, this money can soon add up to a healthy sum! So if you're planning on making a purchase anyway, check to see if the retailer is listed on a cashback site first – otherwise you could be missing out on free money!

There are two major cashback sites in the UK – Top Cashback and Quidco. Both pass on all of their commission to their customers (smaller sites tend to pass on 50% or less). Top Cashback even go as far as offering 101% cashback.
Both companies make their money by placing adverts on their websites.
What can I buy?
Thousands of well-known retailers offer cashback, such as Tesco, Debenhams, Play.com, Next, Marks & Spencer, Argos, Halfords and Sports Direct to name just a few.
You can earn cashback on clothes, footwear, food & drink, electronics, hotels, flights, furniture, mobile contacts, DVDs, books, games, TV & internet subscriptions, car insurance – the list goes on!
How much money can I make?
Larger purchases such as holidays or mobile phone contracts can easily earn you in excess of £100 cashback. Small purchases could get you as little as a few pence. Regular online shoppers could in theory make thousands of pounds per year.
Both Top Cashback and Quidco can pay you via Paypal or BACS. Top cashback can also pay you in the form of gift vouchers or Tesco Clubcard points.
Sounds too good to be true – is there a catch?
Honestly, no. The retailers are willing to pay commission in order to win new customers, so you might as well take advantage!
A few words of caution
Cashback should be seen as a nice added bonus…
…not the main reason for making a purchase. Spending £150 and getting £10 cashback isn't such a great deal if you could have bought the same product for £100 elsewhere.
Do not get tempted into making a purchase purely to get the cashback. The whole idea is that if you were going to buy it anyway, you might as well earn some cashback. So if you find something you want to buy, have a quick look to see if the retailer is listed on your cashback site first.
Cashback can be slow
It can take several days or sometimes weeks for your purchase to be validated and the money to reach your account. This is especially true when it comes to larger purchases that involve a cooling-off period (e.g. a phone contract).
Withdraw your money often
Your cashback is no good to you sat in your account, so make a point of claiming your money on a regular basis. Remember that the cashback industry is unregulated and there's no protection for you if the company goes out of business with your money still sat there (especially important if you use one of the smaller, lesser-known sites).
Clear you cookies!
Cashback sites use a piece of technology called cookies in order to track your journey from their website to the retailer's website. This allows the retailer to pay commission to the right person.Many other websites use cookies as well, which can sometimes interfere with you getting your cashback. It's a good idea to clear your cookies before you go to your cashback site – you can find out how here.
Cashback websites should be free
Both Top Cashback and Quidco are free to use. Be suspicious of any site that asks for a large annual or monthly fee.
Cashback sites compared
The two biggest players in the industry are Top Cashback and Quidco (although there are others – see further down). They offer a very similar service and both feature a similar list of retailers, and to be honest there's no reason why you can't use both of them. See the table below for a comparison: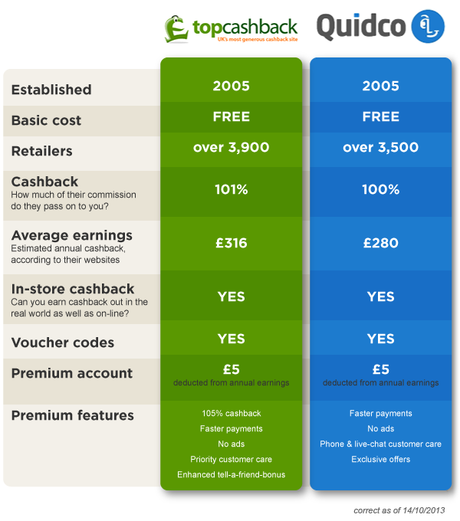 Other cashback sites
Aside from the 'big two', there are several other smaller cashback websites out there. Below is a list of some other popular sites:
Cashback Network
Fat Cheese
FreeFivers
Give or Take
Mutual Points
RPoints
Froggy Bank (formerly Cashback Kings)
Kid Start (puts money into a child savings account)
What have we missed?
Do you use a cashback site that we haven't listed here? How much money have you made? Do you have any tips? Let us know in the comments section below.
Share this article: