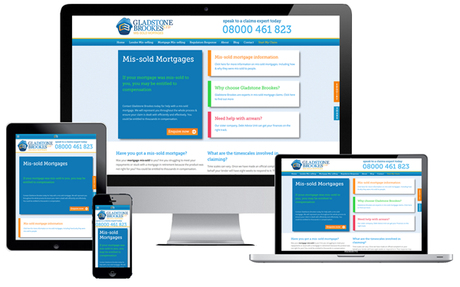 Mis-sold mortgages responsive site
New website
At Gladstone Brookes Mis-sold Mortgages, we can proudly say that we've helped hundreds of people claim back some pretty substantial amounts of money – the highest offers to date are £19,328, £17,797 and £15,165 as well as 96% of our clients claiming to be happy with the service they received.
With such impressive statistics we thought it was time to have an equally impressive website. You can now visit the website whilst on the go, from your smartphone or tablet, or from the comfort of home using your laptop or PC.
Scenarios where can we help?
Your mortgage ran into your retirement
You were given a mortgage that you couldn't afford
You feel you were treated unfairly whilst in arrears
You were told to consolidate unsecured debts into a mortgage
You were switched from a repayment mortgage to an interest only mortgage
No previous credit problems but you were sold a "sub-prime" mortgage
Was self-certification recommended, even though you could prove your income?
Free mortgage audit
As well as a wealth of information on the lenders involved in mortgage mis-selling and the types of product which were most commonly mis-sold, we also offer a free mortgage audit, which aims to identify any breaches or 'failings' of mortgage regulation which may constitute a mis-sold mortgage.
Share this article: