Every time I hear that someone is paying $150+ a month for cable and internet I just want to cry. If you could shave $50 off of that a month, that saves you $600 a year. Wouldn't you like to have an extra car payment or two?? How about a nice weekend away somewhere?  Stop wasting your money and get rid of cable.
There's been a lot of talk lately about "cord cutters" when it comes to cable, so let's look at what kind of options you have if you do decide to take the leap. Have no fear because there are plenty of options out there! Besides, if it really turns out to be that terrible, you can always go back and get some fancy cable/satellite package again. Some service providers are now offering small specialty packages that include things like HBO Go and other movie channels. If you're not lucky enough to be an area where that is offered, there is always Netflix, Redbox, and Hulu just to name a few. If you don't live way out in the country, then you may be able to pick up some of your local channels for FREE through an antenna. Check out the FCC website to see where your closest broadcast stations are.

I pay a maximum of $53 a month:
$45 a month for cable internet
$8 a month for Netflix- our account is shared with 2 other people so it is well worth it
(We did also invest in a $35 antenna to pick up local channels)
So you can see the big picture, that's $636 a year. If I was paying $150 a month, that would be $1800 a year. That's basically 3 times what I'm currently paying and I doubt I would be 3 times as happy…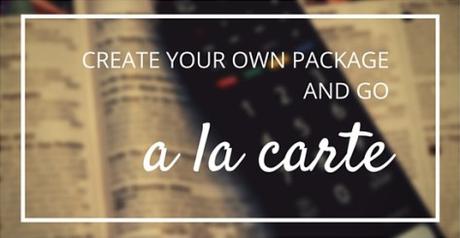 Having good, reliable internet can be vital because it is usually the key to being able to ditch cable. With internet access, you can access anything and everything you want to watch in one way or another.
FREE Options:
ABC, CBS, CNN, Fox, and NBC websites– you can watch some of the latest episodes of your favorite shows from their websites (ie: Scandal, Empire, Gotham, etc)
Hulu– you can pay for Hulu Plus and you'll get even more
Crunchyroll– your kids can get their cartoons and reading in at the same time with endless amounts of anime shows such as Sailor Moon, Naruto, and Dragon Ball Z
Cheaper Options Than Cable or Satellite:
Antenna– pay $30-60 one time and pick up most of your local channels with an antenna like this

Netflix– $8 a month for shows and movies and has a larger library than Hulu or Amazon (free month trial)
Hulu Plus– $8 a month and is better at offering new episodes of hit shows than Netflix (free month trial)
Showtime – $9-11 a month depending if you add it to a Hulu subscription, AppleTV, Roku, or Playstation Vue (7 or 30 day free trial available)
Sling TV– $20 a month will get you ESPN, ESPN2, AMC, Food Network, the Disney Channel and more (7 day free trial available)
Amazon Prime

– $99 a year gets you 2 day shipping on some items and TV shows, movies, and music (30 day free trial available)
If you don't own a smart TV (have internet access on TV) you'll need something to attach to your TV so you can access the internet and stream things like Netflix or Hulu.
Some common streaming devices are:
Apple TV
Google Chromecast
Amazon Fire TV Stick
Xbox or Playstation
Not ready to give up your cable just yet?
How many channels do you have and how many of them are you actually watching? Let's be honest, most people that have 300+ channels probably watch the same few channels. Figure out what you like most about your current TV package. Some people like the movie channels, others are just happy with the local news. Look at your options with your provider and see if you can downsize from your current package. If you're absolutely stuck on keeping what you have , then call your current provider and ask if they have any promotional offers going on that are cheaper than what you currently have. Remember that if you get one of these "promotional offers" that they are time sensitive and will eventually expire, so don't freak out when your bill goes back up in 6 or 12 months. Just call back and ask for another promotional offer! Trust me, I've done this for years.
Honestly, I haven't had real cable in years. We've lived off of local channels and things we can view via the internet. Recently the local cable company began encrypting the signal, so we lost our free local channels. I missed getting local news, so we bought an antenna and are able to pick up the local channels again. There are so many options now that cutting the cord is less scary than ever. You can mix and match services to get what you want, instead of being stuck with a hefty cable bill every month and 300 channels you don't watch.