After the cable companies started encrypting our locally broadcast stations (the ones that have been free since the television was invented) we were looking for another option. I was missing my local news and we both agreed it was unacceptable to miss all the football games. The FCC rules on this situation state that the cable provider should provide a decryption device for a certain amount of time for free. However, if you're like me and would like to avoid talking to the cable company, then you have an option to get an antenna.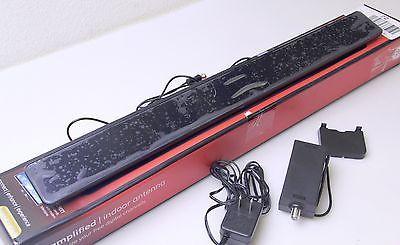 Antenna with protective plastic still on the front.
The very first antenna we tried was a GE Amplified Antenna
. We are not very far from the stations broadcasting the signals and according to the FFC's website we should be able to pick up 9 local channels. That includes all the major ones and some public television channels. We figured we should be able to pick most of those up with a fairly cheap, but not bottom of the line antenna. Here's what we found…
The Good
It has a sleek look (for an antenna) and it was cheap at only about $30. It was also easy to install and it seems you can install it vertically or horizontally. It also come with a little stand in case you don't want to mount it on your wall.
The Not So Good
It only gave us 1-2 solid channels and a couple more that would freeze up so much you couldn't watch them. The cords are not very long so unless you're able to move your TV near a window, you're out of luck. The coax cable attached to this antenna was pretty cheap, so I imagine that is not helping the signal strength either. We moved this thing all over the room and could never seem to get more than a couple channels at good quality.
Overall I would not suggest this GE amplified antenna. If you are extremely close to any of the broadcast towers and do not have any obstructions around your house (ie: hills, trees, buildings, etc), then this antenna may work for you. Be sure to take into consideration how long the cords are that come with the antenna because ideally the antenna should be at a window. Out of desperation one day we moved the TV into the middle of the room so that the antenna would reach the window. That allowed us to get the one local channel we needed completely clear, so we could watch the game.
Here are some specs:
Range: 40 miles (we are within a 3-25 mile range)
Type of Reception: 1080p HD
Cords: The coax cable goes from the antenna, to the amplifier, and screws into the coax on your TV. The amplifier has a power cord that you'll have to plug in.
Coax cable: about 8' 4"
Amplifier cord: about 6' 4"
Looking for more information on antennas, how they work, or where to place them? The FCC's website has additional information on all of that. They also have information on VHF vs UHF and reception tips.