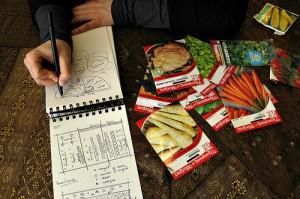 Save Money By Growing Your Own Salad
Crispy lettuce, juicy tomatoes, and refreshing cucumber are the perfect ingredients for a healthy salad, but buying them from the supermarket can mean putting up with produce which is pricey, and sometimes past its best. One solution to this is starting to grow your own salad ingredients – which could save you money, as well as allowing you to enjoy the fruits of your efforts.
Even if you don't consider yourself to be "green-fingered", growing your own salad is fairly straightforward, which means the whole family can join in . The great thing about salad vegetables is that they can be grown in a limited space such as in pots on a window sill or balcony, allowing everyone to enjoy a taste of self-sufficiency.
Where to Get Seeds & What to Look For
When you start your salad gardening project, the first thing you will need is a selection of seeds. If you are new to gardening I suggest that you buy your seeds from a reliable seed merchant or garden centre, as the seeds will be more likely to germinate – there is nothing more disappointing than sowing seeds and nothing ever emerging!
Look out for seed varieties which have been developed for growing in pots and planters – you'll find everything from tomatoes and carrots to leeks in miniature form.
Check seed packets for a best before date – like food, seeds can lose quality after a certain period. Store your seeds in a cool, dry and dark place to preserve them.
Get together with friends and neighbours who like gardening, and swap seeds to increase the variety of what you can grow, without spending extra money.
As an alternative to seeds, buy plugs (transplants), which are small plants which are ready to plant directly into your planters. This is an easier and more reliable option that seeds, but works out slightly more expensive.
What to Plant
What you choose to grow comes down to personal likes and dislikes as much as anything else. Don't plant anything just because you think you should – make sure you grow varieties which you actually want to eat!
Instructions for growing vary from between plant varieties – always read the packet or label for best results.
Tomatoes
A fun way to grow tomatoes is in a hanging basket. Try a variety like "Hundreds and Thousands" or "Tumbler", which produce abundant cherry-tomato sized fruit throughout the summer. To prepare a hanging basket for tomatoes, line the basket with polythene to keep it looking neat and stop the potting medium from spilling out. Mix compost with a slow release fertiliser and add a plant or two. These hanging baskets create an unusual talking point and will provide you with plenty of tomatoes throughout summer and autumn.
Lettuce
There are hundreds of lettuce varieties available, from loose-leaf to round traditional lettuces like Iceberg. One of the best options for home salad growing is any variety labelled "cut and come again", which are usually sold as salad mixes. As the name suggests, when the plants are ready for harvest, you cut just what you need for your salad, and more leaves will be produced.  These types of lettuce can be grown easily from seed – simply sprinkle a fine layer of seeds into a pot of compost, cover with a little more compost and water in. Lettuce grows very quickly, so you could potentially be eating home-grown salad in a month!
Cucumber
Cucumbers may present more difficulty for gardeners with limited space because they grow on a vine and need trellising for support. Try a variety like Salad Bush, which is adapted for container gardening and has a spread of only 60cm. You can plant cucumber seeds directly into the earth or your planter, and they should germinate within a week. Cucumbers need regular watering for the best results.
Growing your own salad is a pleasant pastime, and one that takes time to get the hang of. You will have successes and failures with your plants, but it is all about learning and adapting, so that you can try a different approach the next time if necessary. By trying the varieties suggested, you should find it fairly easy to get started and will soon be enjoying your own home-grown salad.
Citations:

This article is by Beck Middleton, who shares money saving ideas on how gardening can benefit your family and help you avoid health insurance claims.