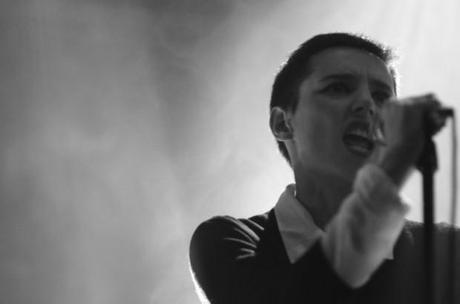 Everything you've heard about Savages, everything that sounds like wild hyperbole and over excited nonsense — every time someone has said they're bringing back post-punk or compared them to Gang of Four – everything people have been saying is right. Savages is one of the most enthralling, captivating, original and just plain fucking cool acts to come out in a long while, not just based on the strength of their music, which would absolutely be enough, but on the wild intensity of their live show.
Despite having played every day, sometimes twice a day, at SXSW and playing a packed show at Bowery Ballroom the night before, Savages managed to fill Music Hall of Williamsburg to the brim on Tuesday and put on another unforgettably energetic show. The intensity of singer Jehnny Beths, the slick cool of guitarist Gemma Thompson, the steady showmanship of bassist Ause Hassan and the truly wild, heart-stopping performance of drummer Fay Milton make it impossible to focus on just one member. Each lady's effortless cool is unique form the others, and each of their contributions to the overwhelming sound are absolutely necessary.
Savages made me feel like I was back in high school, looking up to the coolest girls and wondering how on earth I could one day be just like them — how my parents must have felt watching Gang of Four and Public Image Limited in their heyday. The band woke me up out of my post SXSW coma with a sickening jolt and made me more excited than anything I had seen in a long, long while. Savages aren't just a band to watch, they're a band to follow. I know I'll be following these girls to the ends of the earth.
Savages