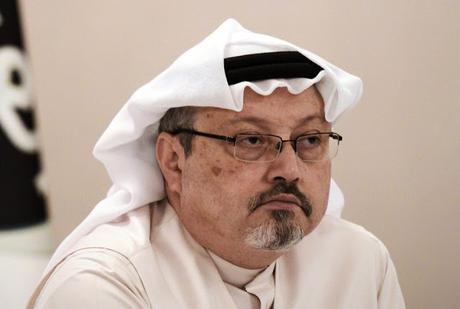 For days now, the government of Saudi Arabia has been denying the murder of Washington Post journalist Jamal Khashoggi. They told the world that the journalist left the embassy in Turkey alive.
No one in the world believed that. The Turkish government has evidence that Khashoggi entered the Saudi embassy, bur never left it. And they have video and audio tapes of him being murdered in that embassy.
Now the Saudi's have changed their story, and released a new lie to the world. From the BBC:


Journalist Jamal Khashoggi died after a fight in the Saudi consulate in Istanbul, the country's state TV reported quoting an initial probe.

It said deputy intelligence chief Ahmad al-Assiri and Saud al-Qahtani, senior aide to Crown Prince Mohammed Bin Salman, were dismissed over the affair.

The news bulletin said 18 Saudi nationals have now been detained as part of the continuing probe.

This is the first time the kingdom has admitted Mr Khashoggi has died. 

Saudi King Salman has also reportedly ordered the formation of a ministerial committee, headed by Crown Prince Mohammed, to restructure the intelligence services.

The journalist was last seen entering the Saudi consulate in Istanbul on 2 October, to pick up paperwork that would allow him to marry his fiancée Hatice Cengiz.


This story is no more believable than the first fairy tale they told. The real question though -- is this lie enough for Donald Trump? Trump has been trying to cover for the Saudi government for days now, and desperately searching for an excuse to avoid punishing them. He even floated the idea that it could have been "rogue killers".
It looks like the Saudi's accepted Trump's story. Their latest lie is a version of it. I think we can expect Trump to announce soon that the Saudi's investigated the murder and punished the guilty -- and that the leadership King Salman and Prince Mohammed bin Salman were innocent (and did not direct the murder.
Even Trump is not stupid enough to believe the newest Saudi lie, but it may well be just enough cover for him to do nothing (or just do some very minor). Will the Republicans in Congress step up and demand real punishment for Saudi Arabia. Don't hold your breath for that. They have not called Trump on any of his other lies and misadventures, and they will silently accept his whitewash of the Saudi government murder.
The Trump administration is going to do NOTHING! If anything is going to be done to hold the Saudi government responsible for their murderous actions, it will have to come from somewhere else -- maybe the United Nations.
UPDATE -- As expected, Donald Trump said he finds the new Saudi story to be credible.