You'll be expecting 'funny', no doubt, a bit of pointed lampooning into somebody's broadside? If so, I'm sorry to disappoint. When it comes to suitable cases for satirical treatment, for the ridiculing of their follies and/or vices, there are just too many obvious targets on our doorstep. We have Blustering BoJo, Prickly Patel, Matt Halfcock, Liz the Cheese, Dominic Comeuppance; and over the water the bloated Trumpkin and his legion of priestesses baying to God to overturn the result of the US election. None of them actually needs very much help from anyone to make themselves look completely ridiculous, so I'm fixing to train my fire on a more insidious target.
You know I like to twist and tease unexpected meanings and associations out of words. It's but a short step in my mind from satire and satirical to satyr and 
satyrical
(this week's poem) so I've got it in for sex pests this week.
Satyrs were mythological Greek figures, of course,
σάτυρος
(
sátyros
), male nature spirits with ears and a tail resembling those of a horse and a permanent, exaggerated erection. They were companions of the god Dionysus, loved wine, music, dancing and women, inhabited remote locales like mountain slopes, woodlands and pastures, and often attempted to seduce nymphs and mortal women, usually without much success.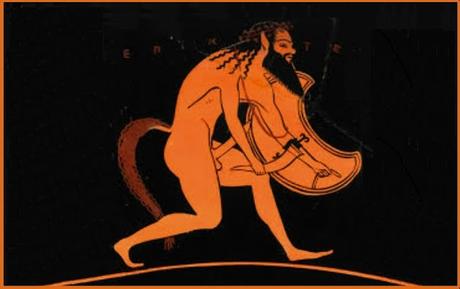 a satyr out on the pull

Over centuries, while retaining essentially human form, the satyr became more of a goat-boy, assuming caprine features, horns and shaggy hooves, for reasons lost now in the olive groves of mutating mythologies. What we are left with are two concepts. One is the faun, the relatively harmless creature of fantasy tales, ballet and children's literature. The other is satyriasis, a medical term denoting excessive lust or sexual desire, the male equivalent of nymphomania - though 'excessive' is a somewhat subjective measure.
Where satyrs of myth might have been ribald, relatively harmless and even rather sadly comic representations of unrequited male lust, modern-day satyrs in the guise of the work-place predator or sex pest are anything but harmless as the #MeToo movement, the accusations levelled against the likes of Hollywood's Harvey Weinstein, Roger Ailes (CEO of Fox News), Jeffrey Epstein in the USA and numerous naughty Tories and prominent business men in this country has proved. 
Having a fling with your boss because of a mutual attraction is not necessarily advisable, but it happens the world over. That is completely different territory from being expected to show someone sexual favours in order to get a part in a film or play (the infamous 'couch audition'), to gain advancement at work, even to just keep your job, or to put up with unwanted sexual advances and inappropriate attempts at intimacy on a regular basis. Those are all coercive acts rooted in power, or rather the abuse of it, patronising at best, bullying at worst. Is it any coincidence that a lot of the perpetrators are, how shall I phrase it, not the most prepossessing of physical specimens?
I was always uncomfortable with 'lad culture' when I witnessed it in the work place or among friends. I'd like to think it's not as prevalent as it was forty, thirty, even twenty years ago; that the social conditioning that created predatory offenders like Weinstein and Ailes, or the eighteen serving Conservative Party ministers accused of various forms of inappropriate sexual behaviour, has not played a part in forming the attitudes of a new generation of workplace bosses, politicians, younger people in any position of power. It would be good to be able to consign the sex pest as a breed, along with male (and female) chauvinists, to the dustbin of history, unacceptable behavior in the twenty-first century.
To lighten the mood, this sly and racy narrative is partially indebted to Greek myth but also to a novel I read earlier in the year of lockdown, Sylvia Townsend Warner's wonderfully witty tale of rural English witchery,
Lolly Willowes
. There may be the slightest nod to cult movie
The Wicker Man
in there as well. The rest of it - the piece which passeth all understanding - is merely the working of the imaginarium. I hope it surprises, entertains, even amuses (which is the intent).
Satyrical
Relishing the syzygy of a dark moon,they've all slipped soft and soundlessfrom their beds, their sleeping houses,these women of the village movinglike ghosts through midnight streets,maidens, wives and widows allanswering the call of the thirtieth.* Bare of feet and beneath their cloakseach one entirely naked,
they neither speak nor offer signsof recognition as they hasten togetheracross dewy pasture to the woods,the lady of the manor, vicar's wife,farmers' daughters, affianced maids,dowagers and spinsters driven alikeby an urging as old as the world.The libidinous quest of sisterhoodmakes moist their loins,
nipples harden, pulses quickenas they pass through the oak groveto the slope beyond;  and there,pricked out by starlight,hard on the rise stand the satyrs.The women form a circle round,raise up their wanton eyes,cast off their cloaks and sighwith mounting anticipation.
*
the thirtieth division is that final black-out phase before the first sliver of new moon appears
Thanks for reading. Mind how you go, S ;-)
Email This
BlogThis!
Share to Twitter
Share to Facebook