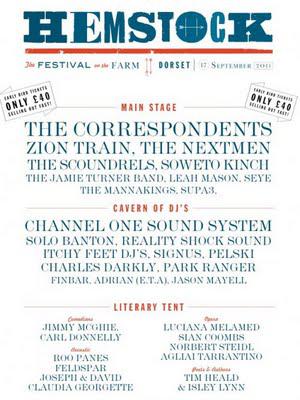 A great small festival to close the festival season is Hemstock. Following the success of Hemstock '07, and by popular demand, the team are back this weekend, aiming to make Hemstock bigger and better than ever. This festival, set on private land within the rolling hills and lush countryside of Dorset, is about providing the very best in new, progressive music, local delicacies, comedy and literature.
Hemstock is a non-profit organisation where all the proceeds raised from the festival will go to support Prostate Cancer Research and Mondo Challenge (a charity which focuses on providing schools and educative grants to remote areas of India).
From midday Hemstock'll be cooking up a musical storm on the main stage by fusing eclectic flavours from Electro Swing, House, Techno, Jazz, Hip-Hop, Rock n Roll, Blues, Folk, Roots and Reggae.



As well as musicians and tents there'll also be some stand up comedy, recitals from well known Poets & Authors infused with scrumptious local foods and cider. All this will take us right up to our grand finale, the headline act, followed by an outstanding fireworks display over the festival site.
From Midnight there will be tents where we will continue the party. And of course, most importantly, Mr Park Ranger, Real Nice and Pelski will be serving up the banging beats well into the early hours.
Grab tickets for just

£40

here.