Written In Collaboration with Superserp
I've travelled around a lot, and throughout my travels I've encountered some very palatable local delicacies. Whether you love the thrills of a high stakes bet in Vegas or fancy something more serene overlooking the views of Thailand, there's a local restaurant that's perfect for you – here are just a few of the world's culinary treasures.
Dining on the Rocks – Samui, Thailand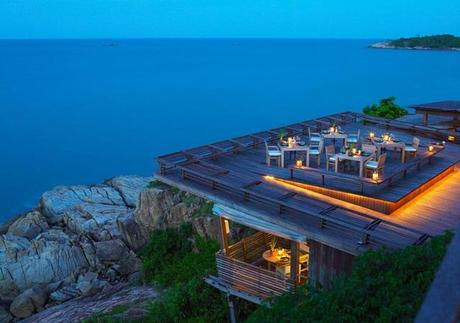 Dining on the Rocks – Samui, Thailand
Located in Samui's Six Senses resort, this luxury restaurant overlooks Thailand's crystal clear oceans. Set among nine cantilevered verandas of weathered teak and bamboo, the restaurant feels as if the diner is eating aboard a wooden barge drifting in the sea. Cuisine is referred to as New Asian, combining tastes of the east and the west, and guests can indulge in up to six courses with 270 degree views of the Gulf of Siam.
Alize – Las Vegas, USA
If you've a fear of heights, you're advised to stay away from Alize – this five-star gourmet restaurant sits on the 56th floor of the Palms Casino and Resort in Las Vegas. Specialising in French cuisine, the award-winning menu does not disappoint, and nor do the views – but if your budget isn't quite so gourmet, you can always get the same Vegas feeling by playing online card games just like in a casino in UK.
The Ledbury – London, England
Dine among the stars in Notting Hill's The Ledbury, where you'll find exquisite four course menus offering quails' eggs, langoustines and oysters. This outstanding establishment boasts two Michelin stars and was recently among the top 10 in a poll of the San Pelligrino 50 Best Restaurants in the World.
Arzak – San Sebastian, Spain
Another to make the top 10 of the San Pelligrino list, Arzak has offered modern Basque food since 1897. Modern applies to every facet of the restaurant, from its bold black and white decor to its scientific and experimental approach to cooking. Despite its modern touch, the restaurant is keen to stay true to its Basque heritage, with signature dishes such as squid with lemon and onion sauce.
Rockpool Bar and Grill – Sydney, Australia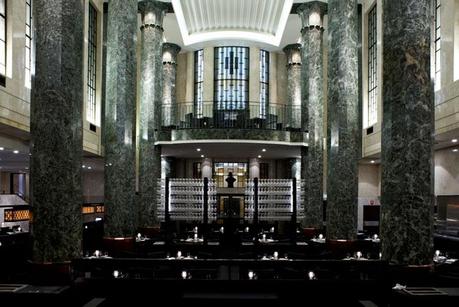 Rockpool Bar and Grill – Sydney, Australia
Style doesn't come any better than the Rockpool Bar and Grill, where cool art deco surroundings are as guaranteed as the outstanding food. Situated within a 1936 art deco skyscraper designed by Emil Sodersteen, guests can indulge in locally sourced, dry aged beef or try any one of the palatable offerings on the restaurant's extensive local wine list.