I've had this post in draft for a year because accusing anyone or any town of Satanism is a terrible thing.
Now that it's almost certain that the Sandy Hook massacre was theater (see "Sandy Hook massacre was a 'contrived event,' says former state trooper Wolfgang Halbig"), I decided to retrieve this post from draft.
Below is my report.
Please understand that I'm not saying that EVERYONE who lives in Sandy Hook/Newtown is a Satanist, or even that SH/Newtown is unique. For there are people in every town in every country across the world who, of their own volition, have chosen to align themselves with the Devil. The latter, being the father of all lies, will of course betray all of them in the end.
1. Satanism and Mass Murder
To begin with, Aaron Klein writes for WND, Dec. 22, 2012, that Satanic subculture or devil worship has been a factor in numerous other mass killings, although the phenomenon is underreported or altogether unreported.
As an example, in the immediate aftermath of the 1999 Columbine High School massacre, there were widespread reports killers Eric Harris and Dylan Klebold were Goths obsessed with the Nazi death cult.
In the case of the July 20, 2012 mass shooting at a Batman movie in Aurora, Colo., although reports do not link the shooter, 24-year-old former Ph.D. student in neuroscience James Eagan Holmes, to either devil worship or Goth, there are Satanic themes related to the "Joker" character after which Holmes had modeled himself.
Reportedly, Holmes was a big fan of Batman movies and and had decorated his apartment with Batman paraphernalia. He dyed his hair red like the Joker and told police officers that he was "the Joker" of Batman movies. In various Batman movies, including the recent Dark Knight series, the Joker's calling card, handed out by the character in multiple scenes in the different movies, is a picture of the devil.
2. Adam Lanza said to be a satanist
According to the Daily Mail, Trevor L. Todd, a "former classmate" of alleged Sandy Hook gunman Adam Lanza, told The National Enquirer that Lanza was "weird," "gave him the chills," and was a devil-worshiper.
Todd claimed that Lanza had a webpage dedicated to Satan, with Gothic-style letters against a black background and the word "Devil" in red. However, neither Todd nor anyone else, including the State of Connecticut's final report on the Sandy Hook massacre, seems to have found Lanza's satanic webpage, not even the Wayback Machine, which is a digital archive of the World Wide Web.
So who is Trevor Todd and is he a real person?
Using the people search engine Spokeo, I did find a Trevor Todd at 5 Pecks Lane, Newtown, CT 06470, whose relatives are David L. Todd (age 56) and Gretchen Todd (age 61). However, according to the assessors online database of Vision Government Solutions, the owners of 5 Pecks Lane are not the Todds, but a couple named John and Riebe Patricia Peck.
3. Church of Satan has an outpost in Newtown
Perhaps the most striking indicator of Satanism in Sandy Hook is a webpage on "What is the Church of Satan and How Do I Get Involved?," which provides contact information to aspiring satanists.
In addition to the mailing address of the Church of Satan headquarters (PO Box 210666 San Francisco, CA 94121), the webpage also gives contact information for the "Church of Satan outpost in Connecticut." Anyone who has questions or "would like to recieve [sic] an official information packet on our Church of Satan outpost in Connecticut" should write to:
Curtis M. LeBlanc
Email: [email protected]
PO Box 3184, Newtown, CT 06470
I did a search of Curtis M. LeBlanc using EmailFinder and Spokeo:
I could not find anything on the email address [email protected]
Email Finder says there's a Curtis M. LeBlanc, 36, of Newtown, CT, but he died in 2007.

Spokeo, however, has

Curtis M. LeBlanc

, age 42, born on July 1971, at

20

West St., Newtown, CT 06470.
I searched for that address on Google Map, which says 20 West St., Newtown, CT 06470 is the Newtown Congregational Church! Here's a screenshot I took of 20 West St. (click map to enlarge):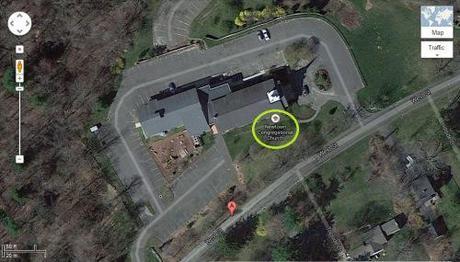 Here's a Google map showing the relationships between Sandy Hook and Newtown, and the distance between the Sandy Hook Elementary School (A) and the Newtown Congregational Church (B):
Click map to enlarge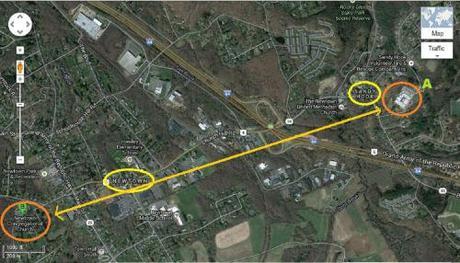 Newtown Congregational Church's (NCC) website says it's "a member of the United Church of Christ," "perched on ten acres," established in 1714 as the first church in Newtown and "has served as a spiritual center for the Newtown, Connecticut area for nearly 300 years." Its address is 14 West St.
I emailed the church about its address — whether it's 14 or 20 West St. A very helpful and pleasant secretary prompted answered my email. She said the church's address is 14 West St.. but she has no idea what 20 West St. is and had looked up a directory for 20 West St. but found nothing.
When I searched for 14 West St., Newtown, CT, on Google Map, this is the result: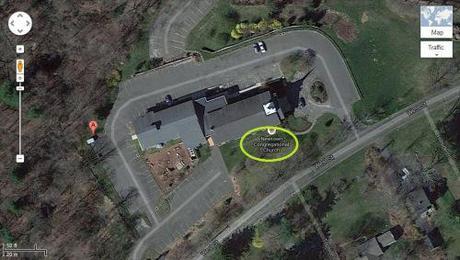 In other words, Google Map thinks both 20 West St. and 14 West St. are the Newtown Congregational Church. Weird!
4. The Devil's Horn man
At the 8:35 mark in a CNN news video of "family photos" supplied by the family of slain Sandy Hook first grade teacher Victoria Soto, is a picture of Soto (in the right foreground) and a white-haired man (in the background on the left) making a devil's horn signwith his hand. Here's a screen shot of that pic from the video: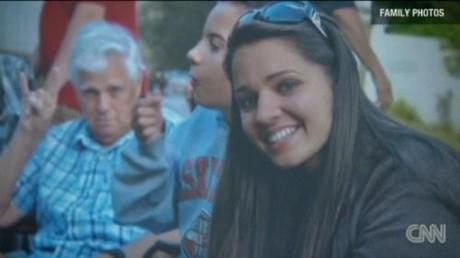 More interesting still is the fact that "devil's horn guy" looks remarkably like Michael Greenberg, the father of actress Jennifer Greenberg Sexton who looks remarkably like a Sandy Hook parent named Laura Phelps. (See my post of Jan. 11, 2013, "Remarkable resemblance of Sandy Hook victims and professional crisis actors".)
5. Poll of Newtown Residents
According to RustyShackleford of Metabunk.org, Feb. 27, 2013, The Connecticut Skeptic conducted a phone poll back in 1996 about the claims of satanism in Newtown. These were the results:
1. Have you ever heard of Satanic cult activity in Newtown?
2. Satanic Cults represent how much of a threat to Newtown?
none 60.6%
minimal 30.3%
moderate 0%

significant 9.1%
3. Satanic cult activity in the US is:
non-existent 10.4%
rare 39.5%
common 45.8%

wide spread 4.2%
4. Satanic cult activity in Newtown is:
non-existent 42.4%
rare 42.5%

common 12.1%
5. The Newtown Police Department should place how much of a priority on Satanic cults?
none 39.4%
low 21.2%
medium 15.2%

highest 24.2%
6. What residents said about satanism in Newtown
In January 2013, a Canadian couple, "fed up with the mainstream media's depiction of what took place in Newtown, Connecticut on December 14, 2012," made a visit to Newtown on their own to visit the sites and talk to the locals.
This is an excerpt from their account, "An Inquisitive Couple's Visit to Newtown, Connecticut," posted on Professor James Tracy's blog, Memory Hole:
"We sat at the 100 Church Hill Restaurant for a couple of hours. There were about 10 people inside. There were about 100 drawings from children from around the country (if not the world) offering condolences and well wishes. No one was talking about these. My partner and I spoke with a couple in their early twenties for an hour or so. They were life long locals. Eventually they asked why we were in Newtown and we told them we had heard of their tragedy. They did not comment further and we did not push the issue.  Later, I mentioned that I had read online where some people had suggested that Newtown might have a lively Satanic community. One of the two locals remarked, "I could believe that."
~Eowyn