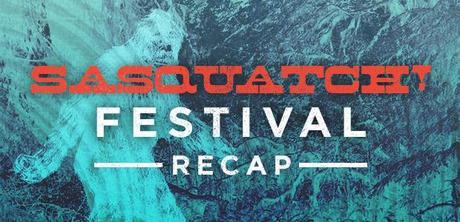 Photos by Eric Tra, Graphic by Chase Kunz
Prized as the northwest's flagship music festival, Sasquatch! has been around since 2002. This year, concertgoers and an all star lineup came together to celebrate festival season with the behemoth's 13th anniversary. While the cancellation of the second weekend might have been one of the biggest buzzkills in the festival's history, this weekend's events proved to be amazing anyway, with a lineup featuring a diverse amalgamation of everything from hip hop to some of the best indie rock around.

The Set Up: The festival featured a total of five stages all named after a handful of rare and beloved beasts: Sasquatch (main stage), Bigfoot, El Chupacabra, Yeti and Narwhal. The stages are connected via a central paved path that leads from the entrance to the main stage. The path weaves through the venue and serves as the main highway for concertgoers to have easy access to all of the different stages, food vendors and merch booths.
Weather: Northwest weather is known for its bipolar tendencies, however the weather over the Memorial Day weekend was, for the most part, sunny and warm. Sunday experienced a close call with rain toward the end of the day, but the clouds cleared making for an exceptionally starry night to accompany the last performance on the main stage featuring Queens of the Stone Age.
Food: The festival featured the standard fair style food. As much as we love stuffing our faces with greasy deep fried goodness, prices for such treats are unreasonably high (pro tip: pack some food or head elsewhere). The campsite also had its own centrally located food court that had a slightly more diverse menu with pelmeni, fish and chips and even Indian and Greek fare. The tastiest (and cheapest) food can always be found on the campground provided by enterprising festival foodies serving up anything from gourmet breakfast omelets to slow roasted pork with mashed potatoes and gravy.
Location: Perched atop the cliffs above the mighty Columbia river, The Gorge offers fantastic sprawling vistas as far as the eye can see.

Best All-Around: Queens of the Stone Age are one of those bands who get better with time. After over a decade, these rock and roll veterans still know how to kick ass. Their festival closing set Sunday was a testament to that enduring and incredible ass-kicking ability.
Best Headliner: Outkast – Judging from the crowd response during their opening song "B.O.B", it's evident that this dynamic duo has no intention of slowing down. Despite how long they've been around, they definitely gave younger artists a run for their money with their explosive energy and ability to preform hit after hit.
Best Energy: M.I.A definitely brought the noise with a set that literally had the entire main stage crowd on their feet. During the latter portion of her set, she recruited a large portion of the audience to accompany her as back-up dancers for her song "Bad Girls".
Most Freaky: Die Antwoord – This South African hip hop group is so fantastically terrifying and exciting to watch that they were an obvious pick for a must-see performance. Highlights from Die Antwoord's set included creepy hooded dancers and Zef's menacing stage presence.
Chillest Set: Washed Out put on the perfect soundtrack for basking in the summer sun. Their set featured a handful of dreamy tunes from their latest album that were blissful to doze off to.
Sexiest: Banks delivered a stunning performance on Sunday. Although she had competing set times with Haim on the main stage, she was still able to pack the El Chupacabra stage and had the audience completely in awe.
Funniest: Big Freedia's live performance was simply a great time. For most it might be difficult to discern what exactly was going on, but between the twerking, the wild vocals and the bass-driven beats, it was best just to give in to the ridiculousness. Needless to say, shit got weird.
Best Dressed: Lucius – Who doesn't like matching? Beyond their painfully catchy tunes, Jess and Holly from the band were equipped with matching black outfits, bleached blonde bob cuts and Willy Wonka-esque sunglasses. They were easily the fashionistas of the festival.
Most Charismatic: De La Soul – From the moment they stepped onto stage, it was apparent that everyone watching was in for a good time. Despite the fact that they were one of the older acts to grace the festival, they still knew how to party like it was 1993.
Best Change-Up: Haim – Listening to Haim on record is one thing, however watching Haim's live show is a completely different animal. These ladies know how to rock, plain and simple.

Phantogram




Queens of the Stone Age

Banks



M.I.A

Outkast


Haim

Foster the People

Lucius

De La Soul

Die Antwoord


First Aid Kit