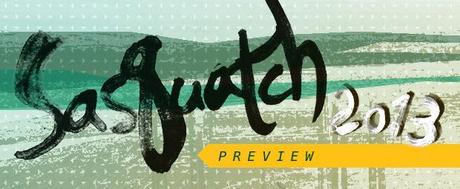 The time has arrived once again folks — Sasquatch 2013 is just around the corner with a line-up that definitely won't disappoint! Located in scenic, central Washington along the Columbia River, this outdoor festival has long been an indie rock mecca for many. The venue itself features several stages, all of which are set along a majestic panorama of rolling hills and cliffs, providing the perfect backdrop for shows at the main Sasquatch Stage. Founded in 2002 by Pacific Northwest-based concert promoter, Adam Zacks, the festival began humbly as a one day event featuring only a handful of bands and music acts. In recent years, Sasquatch has grown into a four day indie music powerhouse, showcasing bands and artists from all over. Past headliner lineups have included legendary performances by artists such as The Flaming Lips, Bjork, Modest Mouse, Wilco, M.I.A.., and the Yeah Yeah Yeahs to name a few. This year, get ready to rock, because this festival is sure to be as fierce and mythic as its namesake. See you there!

This year, the headliners will include Macklemore & Ryan Lewis, Sigur Rós, Mumford & Sons and The Postal Service.

(A-) This year is action packed with music's best and brightest. Though 2012′s line up featured US heavy-hitters Jack White, Beck, Bon Iver, and The Shins, 2013′s festival will feature internationally acclaimed ambient rockers Sigur Rós and a long awaited appearance from a freshly reunited The Postal Service. Aside from the main acts, 2013 will also be remembered for its diverse collection of bands and musical talent from such names as Empire of the Sun, Primus, Andrew Bird as well as a strong lineup of the best dance-pop and some of the Northwest's finest hip-hop.

Sigur Rós
Saturday, 11:00pm @ Sasquatch Stage
It's not often that a band of this calibre graces the humble territory of the Northwest (let alone central Washington), but luckily, one performance from this band will more than make up for lost time. Like fellow icelander, Bjork who made her Sasquatch appearance in 2007, Sigur Rós will definitely make this year's festival one to remember.
The Postal Service
Sunday, 10:00pm @ Sasquatch Stage
After a long hiatus, I'm both curious and excited to see what frontman Ben Gibbard has cooked up for The Postal Service's return to the music scene.
Alt-J
Monday, 8:30pm @ Bigfoot Stage
Hailing from across the pond, Alt-J have quickly earned international attention following their appearance on the scene in 2012. After the release of An Awesome Wave, many people (such as myself) have been eagerly waiting to see a live performance. Thankfully, the band will play the second to last show on the Bigfoot Stage on Monday, and they're definitely worth sticking around for.
Andrew Bird
Saturday, 5:55pm @ Sasquatch Stage
This set might be one of the more underrated main-stage shows of the festival, but don't let that fool you, the level of musicianship that Andrew Bird brings to the table is unparalleled. This set must not be missed.
Tame Impala
Saturday, 10:00pm @ Bigfoot Stage
Australian psych-rock band, Tame Impala, will be gracing the Bigfoot stage at this year's Sasquatch Festival. Get ready to be whisked away on a magical roller-coaster ride across a seemingly never-ending soundscape of psych melodies and "far-out" lyrical stylings.
Bonus: Father John Misty
7:30pm, Friday @ Bigfoot Stage
Sasquatch veteran J. Tillman will be making yet another appearance, only this time as his latest project Father John Misty. This performance will be a favorite among fans of "beard-rock" sensation, Fleet Foxes, for whom Tillman was the drummer.
Telekinesis
Friday, 7:15pm @ Yeti Stage
I've been more than excited to see this band live for a while. Telekinesis' new album, Dormarion, has been well-received among both long-time fans and first-time listeners alike.
Indians
Saturday, 3:05pm @ Yeti Stage
Indians boasts the kind of musical talent that reminds us of Sasquatch's true indie roots, keeping fans like me coming back to the festival year after year. Be prepared to bask in some soothing vocal harmonies as well as some finely-crafted acoustic tunes.
Caveman
Saturday, 5:15pm @ Yeti Stage
Blending dreamy synths and soaring guitars, Caveman will be a great performance to catch if you feel like soaking up the sun and relaxing by the yeti stage.
Odesza
Monday, 4:55pm @ El Chupacabra
Fresh on the electro-pop scene is Seattle duo, Odesza. Their sound is a creative mash-up between intricate audio sampling and melodic beats and tunes. These guys will be a great addition to this year's collection of chill-out performers.
Wild Belle
Sunday, 4:10pm @ Yeti Stage
This mid-west group is sure to get some love with their debut Sasquatch appearance. Armed with melodic vocals lead by Natalie Bergman, and accompanied by guitarist (and brother) Elliot Bergman, these two are able to create a sound that's hard to put in simple terms. What can be said about Wild Belle, however, is that there's definitely greatness on the horizon. Hurry up and see these guys up close while you can, because I'm sure this is the last time they'll play the Yeti stage at Sasquatch.