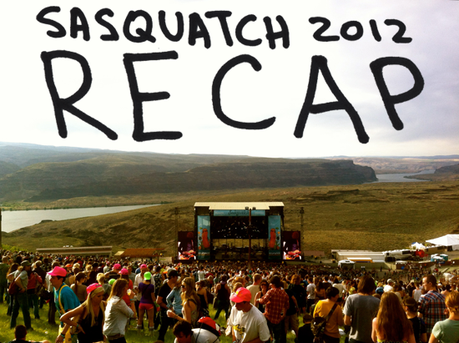 Photo credit: Nina Robinson
Sasquatch! has quickly become one of the very best medium-sized music festivals in the States, all while maintaining its charm and dedication to downright good music. This four-day festival held at the Gorge, a mystifying natural amphitheater in Washington state, during Memorial Day weekend is a masterfully curated showcase of today's best up-and-coming artists from primarily the indie rock music scene. Though this year's lineup included Grammy-winning artist Bon Iver, Jack White, Pretty Lights, Girl Talk, The Shins and Beck, the festival's presenters, House of Blues, struck a pretty great balance to also promote lesser-known bands such as Reptar, Lord Huron, Greylag, Sol, and Gardens & Villa. However, the lineup is clearly not the only thing that sets Sasquatch! apart from the dozens of other festivals of similar magnitude.
When scoping out which festivals are worth your time, there's plenty to consider. While most of the decision is completely based on personal preference (genre, weather, drugs, etc.), there's one constant that's far more clear cut than the others: environment. That is, the overall atmosphere of the festival, the surroundings, the way in which the music is physically presented to fans. Using this metric, Sasquatch! is in a league of its own. The Gorge is just about the most amazing place you can see a concert in the entire world. A lofty claim, but for those of you who have experienced a Washington sunset there firsthand, you can attest to its unparalleled magnificence. Add to that beauty the slow-paced, easygoing Northwest crowd and first-class talent, and you have yourself the ultimate laid back music festival.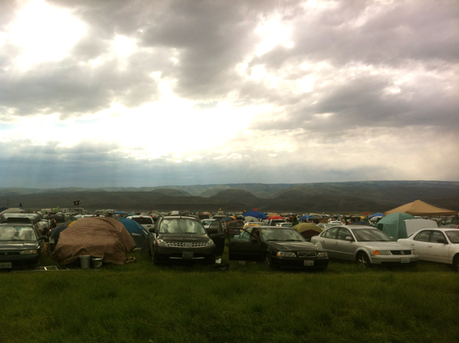 That's not to say Sasquatch! isn't a party. The majority of the festival's visitors camp out in the vast fields that lie just a short walk uphill from the amphitheater. The drinking, smoking, and whatever else tend to begin at 9am with mimosas and breakfast, then the day quickly revs up with drinking games and grilling by 11am. Music arrives at 12pm each day, but the campsite wildness doesn't wind down until 2pm or so.
This year, more than ever before, we saw a huge change in the overall vibe. Though it's far from being an electronic music festival, over the past few years, the organizers have gracefully mixed in the best of the best from the electronic music scene. Two years ago, it was Deadmau5, last year, Skrillex, and this year, headlining act Pretty Lights. While these artists aren't necessarily my flavor at the moment, EDM is pretty insane to behold live and something everyone should try. While I didn't get into the thick of things for Pretty Lights, Nobody Beats The Drum, Wolfgang Gartner, or Feed Me (With Teeth!), I was able to experience the madness either firsthand or through stories from fellow festival-goers. Like I mentioned earlier, though, Sasquatch! is by no means an electronic music festival. More than nearly any other fest, it's a celebration of independent music and the bands that I personally gravitate to. And now, a few quick facts about the festival, a few awards to give out, and the photos we captured during our weekend at The Gorge:

Number of attendees: I couldn't find this information anywhere, but The Gorge has a capacity of over 25,000. If anything, the place was above capacity due to the multiple stages and the sold-out crowd. My guess is 30,000.
Weather: New York City may be hot and humid right now, but central Washington is incredibly dry, which means hot days and freezing cold nights. For those of you planning on making the trek in the future, bring plenty of clothes for both conditions.
Food options: Inside the festival, vendors were selling gyros, organic mac and cheese, burgers/fries/hot dogs, the worst smoothies you'll ever taste, funnel cakes, and Philly cheesesteaks. But come on, this is a camping festival! It would be a shame not to come prepared with a grill and all the products necessary for multiple successful uses.
Overall crowdedness: Sasquatch gets crowded. Really crowded, in fact. At least you're still surrounded by Washingtonians and Canadians, though, who love everyone. The only times that the cluster was borderline annoying was during the headlining sets: Pretty Lights, Jack White, Bon Iver, and Beck. Navigating through a seated crowd on a massive hill at night can result in face/hand stepping, beer spillage, and many other disastrous accidents. The best way to describe it though? Pleasantly packed.
Not your festival if: If you're not down to camp, even on an air mattress in the temperate climate of Washington, then you won't be able to handle Sasquatch. That being said, it's probably the most comfortable camping experience possible if you prepare correctly.

Best set: I absolutely love Bon Iver, and that love stems in large part from their live show. With tattered white sheets hanging above the main stage, The Gorge echoed with Justin Vernon's perfectly pitched falsetto and his band's bellowing arrangement of horns, saxophone, two full drums kits, and, of course, the triangle (tasked at times by the very talented Reginald Pace). Though Jack White's headlining set the night before was bewildering in its own right, it was Bon Iver that melted my soul as I sat in the grass.
Honorable Mention: Santigold, Jack White, The War on Drugs, The Head and the Heart, Girl Talk, Wild Flag (despite the wind)
Biggest disappointment: The sound at The Gorge can be breathtaking, but only the headliner's sets fully showcased this capability. For the majority of the festival, the sound was barely passible — the worst sound came from the Yeti stage, which hosted bands such as Lord Huron, Active Child, Unknown Mortal Orchestra, and We Are Augustines. While Lord Huron themselves weren't a disappointment, the loud buzz most likely caused by an overused cable was distracting to the point of (nearly) ruining their set. That sort of thing is really frustrating as a fan, especially given how important these festival appearances can be for smaller acts.
Tip of the hat: This one goes out to one artist and one maintenance team. I wasn't quite sure how The War on Drugs would be in this setting, but their set at the Big Foot stage was fucking incredible. I tend to group them with Kurt Vile and the Violators given their previous collaborations, so after Kurt Vile disappointed me the day before, I was floored by The War on Drugs' impeccable live performance that included many of my favorites off their 2011 album Slave Ambient.
I'm about to get TMI, so if you're squeamish, stop reading. I need to tip my hat to the Honey Bucket team. Unlike when I attended the festival two years ago, they were 100% on top of their shit and even managed to quickly replenish the TP and hand sanitizer. Kudos.