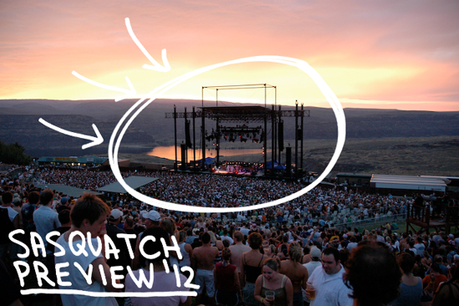 Photo credit: Glide Magazine
Sasquatch! has nearly arrived, which can only mean amazing things for those of us who are lucky enough to have tickets.  The annual music festival held at The Gorge in George, Washington has quickly gone from small/medium to big time over the past several years. Though previously known for featuring predominantly indie rock music, this year's lineup shows a more obvious influence from the electronic scene.  For those of you who have experienced Sasquatch!, though, you know that it's very unlike festivals such as Coachella and Bonnaroo. Whereas the aforementioned events are non-stop, crazy fests, Sasquatch! has always tended to cater more towards a relaxed atmosphere conducive to The Gorge's beauty. Below, you'll find a list of the festival's headliners, plus our picks for the bands to see, and overall lineup grade.  See you there!

This year's main stage will be graced by none other than Jack Whxite, Beck, Bon Iver, The Shins, Tenacious D, and Pretty Lights.

B+ // This rating may seem a bit low considering the number of absolutely amazing artists performing, but in relation to last year's bill (Modest Mouse, Death Cab for Cutie, Bright Eyes, The Flaming Lips, Wilco, Iron & Wine, Noah & The Whale, Twin Shadow, Local Natives, The Antlers, Wye Oak, etc.), the two lineups simply aren't at the same level. It may be better than the majority of festivals out there, but not quite enough to get it an A.


Most of us have probably been listening to The Shins for ages now, but even if you've already seen them live, you haven't seen them at The Gorge. Seeing James Mercer do his thing with the beauty of Washington behind him will be like nothing you've ever experienced.
Set: Saturday, 8:10pm, Sasquatch Stage

I caught Gregg Gillis aka Girl Talk exactly a year ago at Barcelona's Primavera Sound music festival. There, I was finally able to appreciate exactly why people love this dude so much. Though I haven't listened to his albums on my iPod/iPhone for almost 6 years, there's still no one who can match his mash ups. Sandwiched between sets by Santigold and Pretty Lights, this is a set you need to be prepared for: extra water, friends, and of course, your dancing shoes (or bare feet).
Set: Saturday, 8:30pm, Sasquatch Stage

As much as I loved seeing Justin Vernon do his thing last summer at Prospect Park in Brooklyn, I almost wish I had waited until Sasquatch! to see Bon Iver for the first time.  Not that it will actually matter.
Set: Sunday, 10pm, Sasquatch Stage

What can you say about Jack White that hasn't already been said?  This man is a legend, and if you're at Sasquatch, you simply shouldn't let yourself miss his headlining set on Saturday (right after The Shins).
Set: Saturday, 10pm, Sasquatch Stage

I'm actually a little surprised by how much I'm looking forward to seeing Feist for the first time. I'm not a die-hard fan, but her last album was exceptionally good and I've heard nothing but amazing things about her live show. Expect plenty of tracks off her 2011 release Metals, plus all the songs that made us fall for her.
Set: Monday, 5:30pm, Sasquatch Stage


Ex-Pela frontman Billy McCarthy picked up where he left off with new outfit We Are Augustines.  Now, only 7 months after playing itty-bitty Brooklyn venue Spike Hill during CMJ, they're playing Sasquatch!. Few bands at this festival will be able to match the raw emotion and power behind everything this group does.
Set: Sunday, 6:45pm, Yeti Stage

What started as a solo project, Lord Huron is now a full-fledged band with a lush, floral sound that suits The Gorge perfectly. There's still no word on the band's debut LP, but hopefully they'll be playing some of it at Sasquatch!.
Set: Saturday, 6:45pm, Yeti Stage

What was once Gobble Gobble, known for their theatrics and bombastic live shows, is now two bands: Purity Ring and Born Gold. The former ended up getting signed by 4AD and is prepping for the release of their debut LP, Shrines. This early evening set will be weird and mysterious, but you'll probably end up loving it. They're opening for Dirty Projectors this summer — perhaps that gives you a better idea of what you're in for?
Set: Saturday, 7pm, Banana Shack Stage

Like Lord Huron (above), Craft Spells is the recorded material of just a single individual, Seattle's Justin Vallesteros. Vallesteros, playing Sasquatch! with a full band, will be coming into the festival just after the introduction of his second official release, an EP called Gallery. This will be a fun set that'll give you the opportunity to either dance or sit your ass in the grass and play with flowers.
Set: Saturday, 2:25pm, Yeti Stage

Reptar is a crazed, avante-pop band from Athens, Georgia with a proclivity to pack the stage and get wild. I was able to see them twice down at SXSW this year and, despite their playing an exhausitng 10 shows at the festival, they were 100% one of my highlights of the week. Their high-energy set will undoubtedly rock Sasquatch! and get everyone on their feet at the Bigfoot stage.
Set: Saturday, 12pm, Bigfoot Stage