Do you know me?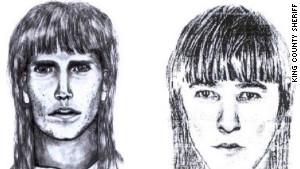 On the morning of December 14, 1991, 16-year old Sarah Yarborough of Seattle went to school early. She didn't want to miss the bus that woud take her cheerleading team to a competition. An exciting day for her. Except she didn't make the bus. Her body, clad in her cheerleader uniform, was found near her parked car. She had been sexually assaulted and strangled.
Several witnesses saw a man in the area, who was described as twenty-something, with long blonde hair, clad in a black trench coat, and driving a tan 1970 Chevy Nova, or similar car. A composite was created from these accounts.
Months and then years went by, and despite thousands of tips, no suspect was ever developed. The case went cold, as they say.
In a creative move, the King County Sheriff's Department sent the DNA profile obtained from young Sarah's body to forensic consultant Colleen Fitzpatrick in California. Employing genealogical techniques, she matched the crime scene DNA to the Massachusetts family of Robert Fuller, whose ancestors arrived on the Mayflower in 1630.
Did this solve the case? Not yet. By now, the Fuller's of 1630 would likely have thousands of descendants so the suspect pool remains large. But having the name Fuller attached to the other evidence might eventually be the key connection that leads to this killer. Let's hope.